After staying awake for 40 hours straight, the Top Chef contestants are ready for another day of competitive cooking after only a few hours' rest. Everybody looks tired, except for Andrew who seems to be fueled by some strange chemical-induced energy. "I woke up with a f***ing fire in my stomach," he says. Hmmm. Isn't that what they're calling crystal meth these days?
In the Top Chef kitchen, we find host Padma looking like the cat who ate the cream as she stands next to this week's guest judge, Sam Talbot, contestant from Top Chef's season two and all-round hunk. Wait, a Top Chef contestant is now a Top Chef judge? How meta!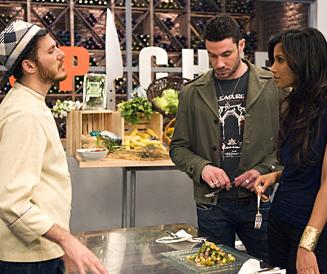 For the Quickfire Challenge, the chefs will have an unprecedented 45 minutes to create a "new" classic salad. It's a "chance to put a little sexy back into the salads," says Sam, making Antonia—and women all across America—swoon. By their very nature, salads are raw, so who knows why the producers decided to give them all that extra time. It certainly doesn't benefit Stephanie, who leaves the artichoke chip off her pear-and-artichoke salad. She's joined in the bottom by Richard, with his ceviche of fruit and veg', and Lisa, whose sexy banana salad Padma says tastes overpoweringly of banana—and that's not sexy.
In the top are Antonia's poached egg and wild mushroom salad, Dale's unique poached chicken with nori paste, and Spike's winning sensual beef salad, which he hopes conveys the following message: "Let's have sex after we eat this." It's Spike's first Quickfire win, yet he looks unsurprisingly smug.
On to the Elimination Challenge. As a diabetic, Sam often has trouble finding food that is low in carbs and sugar, and also flavorful. Inspired by these dietary challenges, the chefs set out to create a healthy lunch box for cadets at Chicago's Police Academy that will include a lean protein, a whole grain, a fruit, and vegetable. Apparently Sam comes from a family of cops (Ding-dong!) making him uniquely qualified to judge what they like to eat. Padma makes a pun on "Protect and Serve," but frankly we're too busy ogling Sam to catch it.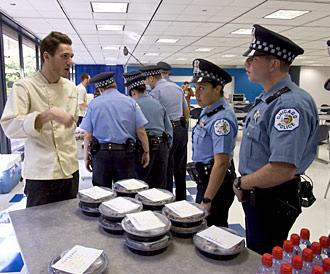 As the winner of the Quickfire, Spike gets an extra ten minutes to shop, and can choose four items that will then be off limits for his competitors. He aimlessly slithers around Whole Foods before selecting chicken, bread, tomatoes, and lettuce as his unique ingredients. Spike expresses unbridled glee that his competitors won't be able to use these staple ingredients, but unfortunately his scheming seems to hamper his creativity, as he decides to make chicken salad.

Back in the Top Chef kitchen, the contestants fire up the stoves. Judge Tom Colicchio drops in and tastes Lisa's pineapple-hot sauce, which is so spicy it nearly blows open his chef's jacket. "Seven alarm!" he gasps. Note to Lisa: It's probably not a great idea to blister the refined palates of the judges. Tom asks Spike if he's planning on using his tomatoes, and Spike acknowledges that he might use them, perhaps as garnish, causing his fellow contestants to cast him looks of pure hatred. Seriously, how does this guy sleep at night?

The chefs pack up their lunch boxes and head over to the Police Academy (Is it just us or does it seem like there's an inordinate amount of carting food around this season?). As the cadets march in to pick up their lunch boxes, Richard tries to dumb down his Vietnamese roll. "Do you like burritos?" he repeats ad nauseum, gesturing at his rice-paper-wrapped grilled tuna "burrito," which looks like a white blob. "It tastes better than it looks, fortunately," says judge Ted Allen.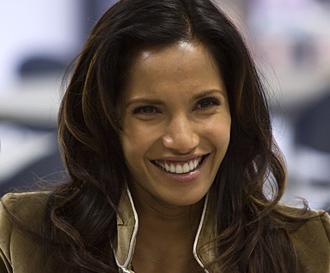 Dale's dish of Southeast Asian lettuce wraps with lemongrass-bison wins raves, though Ted thinks they "could use some heat." Also a favorite is Stephanie's hearty mushroom, leek, and meatball soup with barley and an incongruous side of pureed butternut squash. In the end, Dale wins, with a dish that Sam says "really embodied the challenge," winning raves from both judges and police. Dale receives his prize—a giant bottle of plonk, er, Rutherford Hill Merlot, and two tickets to the Rutherford Hill vineyard in Napa Valley—with a weak smile. We're guessing he doesn't use that group of facial muscles very often.
Meanwhile, in the bottom, is Spike's uninspired chicken salad, which features a bizarre combination of grapes and olives. Joining him is Lisa, with her truly unappetizing stirfry of raw shrimp and brown rice, and Andrew, who'd chosen to think outside of the box (or maybe even the whole postal system) with a salmon maki roll that features pureed parsnips and pinenuts instead of rice (cut to shot of Tom crumbling the roll between his fingers, a look of sheer disgust on his face). Alas for Andrew, his dish lacks one of the key elements—a whole grain—an error Lisa wastes no time in pointing out to the judges.
Much arguing ensues, but in the end it is Andrew who packs his knives. He departs with a surprising amount of grace and humor. "I've always been against the grain. No pun intended," he says. "But kind of pun intended." Oh, Andrew. Now that you're gone, who's going to make fun of the Oompa-Loompas?
For last week's Top Chef recap, click here.
More>> Best Bites Blog | Food & Dining | Restaurant Finder