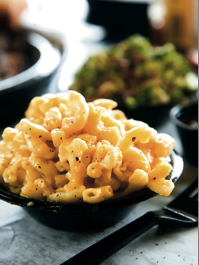 Why go: Short of making a pilgrimage to the open-pit joints of southern Maryland, Kerry Britt's place serves up the closest thing to the smoky, backwoods taste that 'cue purists crave. Close your eyes and you can almost forget the Bowie strip mall that houses it.
What to get: Pulled pork in moist, ropy strands; country-style sausage full of spice; smoked brisket with the fall-apart lusciousness of braised short ribs; eggy potato salad with shrimp; molasses-drenched beans; Carla's Key-lime pie.
Best for: A lip-smacking picnic to go.
Insider tip: Resist the urge to sample the fish of the day—it's often lackluster. Best to stick with the pork.
Open daily for lunch and dinner.
See all Cheap Eats 2008 restaurants