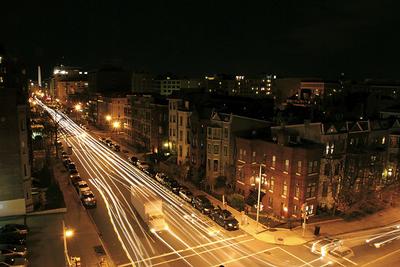 Metropole, a 90-unit building in DC's Logan Circle, is set to open next month—with its three-story penthouse sitting like a cherry on top. Area real-estate brokers say it's likely the priciest condo on the market.
As designed, it's a five-bedroom, six-bath unit with 4,600 square feet inside and 1,200 square feet of outdoor space. Two balconies and three terraces add to the amenities, which include a hot tub, fire pit, three parking spaces, and views of the monuments on the Mall. The penthouse has 26-foot living-room ceilings and a floating glass staircase connecting all three levels.
If you're too busy to pick up the dry cleaning, get tickets to nearby Studio Theatre, or order flowers for Mom, don't worry: Metropole's concierge service has it covered.
Is the $6-million price too much? You can save a million by buying the condo as a shell and finishing it yourself.
If the penthouse doesn't sell soon, the builder will bow to the reality of the market and break it up to sell as three individual units.
This article appears in the July 2008 issue of Washingtonian. To see more articles in this issue, click here.
More>> Capital Comment Blog | News & Politics | Society Photos