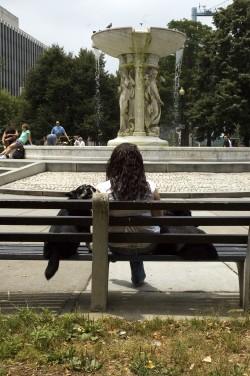 Velvet in Dupont, a dating blogger who keeps her identity a mystery, came to Washington from Connecticut. But it's not quite that simple: After college, she lived in Atlanta with a long-term boyfriend, then moved to Phoenix with her beau in search of more excitement. Then it was back east to Baltimore—where she ended the six-year relationship—before heading south to Rockville, and then farther south to Dupont Circle. Whew!
The 35-year-old, who works in real-estate finance, started dating again in 2004. By 2005, she says, "I had amassed enough of a crazy-date portfolio to justify starting a dating blog." So she did.
Forty-four funny/awkward/bad dates later, she's now in a steady relationship with Mr. X, her boyfriend's online pseudonym. Her blog chronicles their relationship and follows the ups and downs of dating in the city—and all the skeletons in the closet that come with it.
Via e-mail, Velvet answered our questions about all things dateworthy and shared her bests and worsts on dating in the DC area.
Best free date idea in DC: I'm a bit biased toward people watching in Dupont Circle, but that's because it's close to home and I'm lazy. But if he doesn't like that, I'm happy to offer that we can walk my dogs down to the Lincoln Memorial.

Best DC restaurant for a romantic date: If you can get past the damage to your credit card, Il Mulino is fantastic.

Best first date you've ever been on: The one I never went on. After four years of being best friends, seeing each other through failing relationships, and being accused by so many others of something going on between us, Mr. X and I finally decided maybe we should try going out for dinner. I went to his place and, um, let's just say that it's a year later and someone still owes me a dinner.
Worst first date you've ever been on: Gee. Should I say the one who bragged about his lawyer's salary, put down our waiter, and drank so much sake that while pouring his final serving, he missed the cup entirely? Or is it the one who said he didn't want to have sex but didn't understand why we couldn't just watch each other masturbate? I ran home from the first one. By the time the second one occurred, I had learned to drive to all my dates.
Best excuse to end a bad date early: What do you mean? People actually end bad dates early? I LOVE bad dates. In the name of taking one for the team, I'll stay on a bad date until the bitter end, just for the great stories I'll be able to tell.

Best bar to forget about a bad date: I'll give you my favorites by year.
• 1995: Polyesters in New York City. You could get picked up by a guy before you checked your coat.
• 1998: It was the Villa in Stamford, Connecticut, where you could still get someone's number even during the police raid.
• 2000: The Woodstock Inn in Woodstock, Maryland—the kind of place where you're scared to go in but end up being best friends with all the bikers before you leave.
• 2006: Graham Central Station in Phoenix, where a cowboy would ask you to dance without speaking a word.
• Present day: In DC, I'll go with my standby—Wonderland.
Number of men you've dated in DC: By my count, 44. That's dates. You said "dated"! And no followup questions on this!

Best pickup line you've ever heard: "Hi, my name is ______." With all the pickup artists roaming the clubs and delivering contrived lines, this simple one will set you apart from the crowd.
Best pickup line you've ever used: "Are you with the band?" My friend and I ended up with an entourage of people following us around Dupont and U Street looking for this elusive "band"—which didn't exist. We've also used the junior-high-school trick of passing notes. When cornered by someone we didn't want the attention of, we passed a note to someone cute that says, "Can you get this guy away from me/my friend?" It's a passive-aggressive way of making them come to you.
Best bar for DC singles: There are always a few bars that pop up here and there—the bars on H Street come to mind—but I've never found DC to be a place with a huge supply of great singles bars. In DC, it's more about who you know, not where you go. You're better off talking to a guy at a deli or salad bar downtown during weekday lunch rush than you are at any of the bars.
Best piece of dating advice you've ever received: A friend told me to e-mail her everything I knew about a guy I dated, just in case. It's a good practice, especially for people who choose to date online. The more your friends know, the better.
Favorite spot to meet a blind date: Panache in downtown DC. It's dark, buried between a bunch of main roads, and no one is going to know you there.
Finish this sentence: "Whenever I go on a date, I always bring . . ." Mace.
Kiss or no kiss on the first date? No kiss. But that's just me. I need to get away from the person to decide if I'm attracted to them or not. Odd, I know.
Favorite spot for a lunch date: Bistrot du Coin in Dupont.
Favorite DC blog besides your own: Dealing in Subterfuges
Next week in the Blogger Beat! We say, "What's up?" to What's Up Arlington blogger Eric Legg. He gives us some insider info on what to do and where to go in the NoVA suburb. Check back next Wednesday for the interview!

Earlier Blogger Beat interviews:
Why I Hate DC
Prince of Petworth
Have a favorite local blogger you'd like to hear from? Send an e-mail to eleaman@washingtonian.com.
More>> Capital Comment Blog | News & Politics | Society Photos