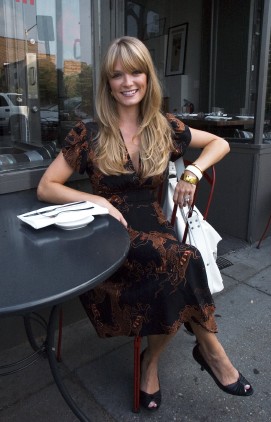 Amanda McClements at Cork.
Photograph by Jennifer Molay
Amanda McClements, the taste buds behind the local food blog Metrocurean, is a DC food writer whose culinary critiques have appeared in Food & Wine, the Washington Post, Roll Call, and The Washingtonian.
The North Carolina native started the blog three years ago as a outlet for all things foodworthy. She'd just quit her job to take up writing full-time, and her then-boyfriend—now husband—suggested starting a blog to keep her writing regularly. So she did.
On Metrocurean, Amanda tracks new restaurant and bar openings, dishes about foodie news and gossip, and chronicles her own culinary adventures. The 29-year-old spends two hours a day updating the blog but hopes to take it to new heights—and possibly take on blogging full-time—in the next year.
We caught up with Amanda to get her take on the local food scene. Favorite pastry chef? Best place for takeout? Lobster burger or Kobe? Read on to find out this blogger's culinary picks.
Favorite DC chef: Johnny Monis. From his $12 pastas in the early Komi days to his multihour menus today, I have been consistently blown away by Johnny's cooking. So much talent and so little ego bodes well.
Favorite pastry chef: A tie between Heather Chittum of Hook and Josh Short of Buzz. Heather turned me into a fruit-dessert person with her lingonberry linzertorte, and I love Josh's homey classics like his oversize, decadent brownies.
Favorite farmers market: I'm a fan of Penn Quarter's FreshFarm market, mainly because 3 to 7 PM is when I shop. To be honest, I'm rarely out of the house early enough to hit Dupont, though it's definitely the best for selection.
Best restaurant for a first date: I have to go with Comet Ping Pong on this one. It's a great chance for each party to prove they don't take themselves too seriously. I mean, would you really want to date someone who refuses to drink beer and play Ping-Pong?
Best restaurant for entertaining out-of-towners: My go-to for out-of-towners, especially first-time visitors, is Zaytinya. High on style, low on prices, and the food is great.
Best restaurant for popping the question: Don't propose in a restaurant. It's so unoriginal and cheesy. I've heard horror stories where diamond rings meant to be baked in some chocolate thing or stuck in Champagne have been misplaced. Then again, my husband popped the question in the ocean—not the safest place to take a loose ring.
Best lunch spot to impress a client: BLT Steak. If the massive popovers don't impress them, you know you can stop trying right then and there.
Best spot for an after-work drink: The bar and lounge at the Source is great because it's big enough for a group, and the bar snacks are top-notch.
Best place for takeout: I'm a big fan of the rotisserie chicken—and the ecofriendly mantra—at Chix on 11th Street, Northwest.
Last meal you ate out—and its total cost: Dinner for two at the bar at Cork—just shy of $100.
Central Michel Richard or the Source by Wolfgang Puck? Upstairs at the Source belongs in a category with the splurgeworthy fine-dining big boys.
Citronelle, Restaurant Eve, or CityZen? I'm punting this one: I'd be thrilled to be seated in all three.
Cork, Proof, or Veritas? Cork is too close to my house for this to be a fair question—it's one of my neighborhood go-tos. If Proof was next door to it, I would stand outside wringing my hands nightly. I adore both.
ACKC, Co Co. Sala, or Locolat? Apples and oranges. I'll hit ACKC for the spicy Lucy hot chocolate, and Co Co. Sala for a girls' night out. Haven't been to Locolat yet.
2 Amys or Comet Ping Pong? I really can't get enough of Comet—the laid-back vibe, the salty crust, the primo toppings. If 2 Amys would turn the lights down, this may have been up for discussion.
Lobster burger or Kobe burger? Lobster! I think Kobe beef is overrated. I'd rather gnaw on a hanger steak.
Tangy fro-yo or gelato? Gelato for sure. It's all about the full-flavored cream. And anyway, I don't think it's healthy to think of dessert as health food.
Best foodie trend you've seen this summer: The proliferation of casual burger joints. And the cultivation of DC's craft-cocktail movement.
Worst foodie trend you've seen this summer: Same as every summer: deep-fried or heavily battered soft-shell crabs. I love soft shells, but I like to actually taste them.
Trend you hope to see this fall: Now that our street-food scene is improving, I want to see some sweets trucks like the ones popping up all over New York. Cupcakes, cookies, crème brûlée. Bring it!
Most disgusting thing you've seen on a menu—and tried: If you mean disgusting in a conventional sense, veal tongue at CityZen. It was salt-brined, breaded, and served with pasta and asparagus. And it was delicious.
Favorite spot for outdoor dining: The Tabard Inn's patio garden is such an escape from the city.
Favorite restaurant for a view of the city: Views and good food never seem to go together, but I have high hopes for whatever W Hotels does with Hotel Washington's old Sky Lounge—hands down, the best restaurant view in the city.
Restaurants worth the drive to Maryland or Virginia: My favorite reason to cross the river is dinner at Restaurant Eve followed by cocktails at PX. Oh, how I wish they were in my neighborhood.
Favorite local foodie blog besides your own: Counter Intelligence, and not just because she's fun to knock back drinks with at Cork or Bar Pilar but because she really goes after the back story and looks at the people behind the food.
Next week on the Blogger Beat, we chat with the guys behind DC Rock Club, a blog chronicling their four-man mission to see a live show each week. They talk shop about their likes and dislikes in the local music scene and reveal which of them has the best taste in music. Check back next Wednesday for the interview!
Earlier Blogger Beat interviews:
DC Goodwill Fashionista
What's Up Arlington
Velvet in Dupont
Have a favorite local blogger you'd like to hear from? Send an e-mail to eleaman@washingtonian.com.
More>> Capital Comment Blog | News & Politics | Society Photos