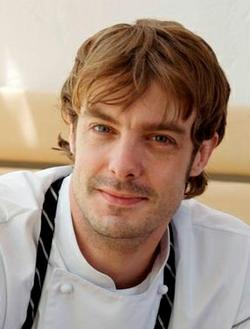 Name: barton seaver—always lower case. I don't like the way that the letter 'b' looks when capitalized.
Age: 29
Occupation: Chef/advocate
Hometown: Mount Pleasant, DC
Must-have item at all times:
A pen—Pilot G2 .07. It has been my favorite pen for 3½ years now. Blue ink preferred.
Signature drink:
Absolutely, Champagne—if I were called before St. Peter to justify the existence of humanity, I would bring with me a bottle of Champagne and a slab of bacon to prove that we are yet capable of creating beauty.
Finish this sentence: When not working, you can find me . . .
. . . if you can! I like to leave my schedule open as I get up to so many different things all the time.
Washingtonians you admire?
Adrian Fenty—DC has needed someone to take action, and I think he's making great improvements to the city. José Andrés—impressive man of great character and vision who has done quite a lot to further gastronomy in DC. Robert Egger, Mike Curtin, and the DC Central Kitchen staff—-they work tirelessly to make a difference in people's lives and effect change in the cycle of urban poverty. Wandering Mark—a DC legend; pain in the ass, amazingly smart man. Barack Obama—isn't he everyone's favorite future Washingtonian?
Favorite neighborhood in DC:
Dupont Circle has always been one of my favorites. I like the combination of business, retail, and residential. The architecture is great on the houses, and it is so centralized as to make the rest of the city very accessible. Our house is in Dupont on New Hampshire Avenue, and we couldn't be happier. I also love Mount Pleasant—when I was growing up there, it was nearly lawless in ways that were wonderful for a young man. The mix of cultures created an awesome learning experience, and I am thrilled to have been exposed to so much. Washington is a truly complex and interesting city with an amazing character. When I was younger, so many of my friends and classmates disparaged DC because it was boring, and still I hear the disgruntled whispers about the bar scene. DC is not New York, and thankfully it never will be. I find that many of the people I know who are in NYC are bored. NYC has so much going on at any given time that it seems like watching TV or sensory overload. You don't ever have to engage in any activity as there is enough going on around you to keep occupied by merely observing. DC requires effort and engagement. It requires involvement from those who seek to gain anything from it.
Washington insider tips?
Buy a scooter from Gerry at the Vespa store on Wisconsin Avenue—I spent $7 on gas last month. Learn how to navigate the Parkway—it's the most useful road ever. Eat at the Ethiopian restaurants because they are fantastic.
Finish this sentence: Thinking about the Metro makes me . . .
. . . late.
Favorite museum:
The Visionary Art Museum in Baltimore. Hey, we borrowed their baseball team for 40 years, so I'm going to borrow one of their museums for this purpose. It is wonderful to see the art of the commoner. I also really like the new National Portrait Gallery.
What would you change about DC?
The Redskins would win most of the time—or at least they would always beat the Cowboys. Restaurants outside of Chinatown would be open past 10 PM. Chinatown would mean more than Coyote Ugly written in Chinese characters. We should incubate a vibrant culture of street art and musical performers. Radio would offer better options in addition to WPFW and NPR. Mayor Fenty (or myself) would have a personal supply of lightning bolts at his disposal to punish any motorists who wander into the bike lane. The Fourth of July would once again be the ultimate celebration of anarchy it was when I was a child—basically do away with the 'no open container' law.
As you answer these questions, what Web sites are open in your browser?
Google Earth and the Blues Alley show calendar.
What's your daily routine like?
I have been traveling for most of the time since I left the restaurants, so there has been little routine to anything. I have been so busy for so many years that I do not really have routines in my life. Lately it is up by 6, read for an hour, gym for an hour and half, spend the rest of the morning writing and responding to e-mails, usually a lunch meeting, afternoon working at home until 7 or 8, dinner with the lady, working/reading/music until sleep.
What are you working on?
I'm going to be doing a lot of work with DC Central Kitchen to help them in their mission of providing independence to those who are removing themselves from the safety nets of society. I have some other big projects in the works. I'm not ready to talk about them quite yet, but they will be focusing on international policy regarding our natural resources and telling the story of a sustainable future.
What inspired you to become a chef?
It was my parents. They were both quite intrepid cooks, so dinner was always fun and it was always great, interesting food. I really like the communion created by a meal together. Kitchens also held a great appeal to me as I was interested in using my hands. I like physical tasks, so the kitchen provided an opportunity to work and think and be creative.
What's some advice you can offer to people interested in leading a sustainable lifestyle?
Ask questions and take the time to look for the answers. Try to incorporate small changes rather than holding yourself to an all-out standard—5-percent change is better than no change. At the heart of the matter is that we need to enact a sociological change and the nature of our relationship with our given resources. This is a scary proposal, and unfortunately one that takes time to bring to bear.
What is the earliest DC culinary experience you can recall having?
Growing up in Mount Pleasant offered more than its fair share of unique dining and culinary experiences. From our dinner quests to Adams Morgan to the fish market down at 12th and Maine, DC had a major impact on my culinary style. Probably the most pressing memory is of Omega Restaurant, and old Cuban place in Adams Morgan where the Grill from Ipanema is now.To this day I have borderline inappropriate thoughts about their shredded chicken with beans and rice.
Don't forget to check back in next week for a new Washingtonian Favorites with filmmaker and DC Shorts Film Festival organizer Jon Gann. He'll talk about his favorite directors and some of the projects he's currently working on.
Related:
Washingtonian Favorites: Svetlana Legetic
Washingtonian Favorites: Lindsay Czarniak
More>> Capital Comment Blog | News & Politics | Society Photos