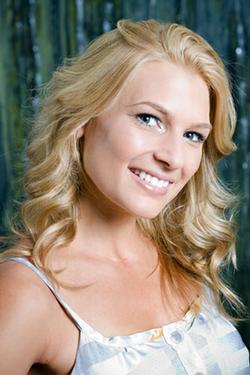 Name: Katherine Kennedy
Age: 23
Occupation: Business-development specialist and soon-to-be reality-TV star of the DC-based show Blonde Charity Mafia on Lifetime.
Hometown: Los Altos Hills, California
Must-have item at all times: My BlackBerry. I sleep with it under my pillow and get the shakes whenever it leaves my sight!
Signature drink: I am a pretty simple girl with my vodka-soda and a twist of lime. One sip and you can't wipe the smile off my face!
Finish this sentence: When not working, you can find me . . .
. . .Working the room at one of DC's fabulous soirees. I consider myself to always be working, or at least networking. DC is an amazing city, and if you keep your eyes open, you never know what door of opportunity will open up.
Washingtonians you admire?
Anyone who knows me knows that I am head-over-heels enamored with this wonderful city, simply because of all the fascinating people. The entrepreneurial spirit is so alive in this city and contagious through the success of those like Mark Ein, Katharine Graham, and so many others. My very own group of girlfriends who have started their careers with such determination—such as Keri Ann Meslar, Victoria Michael, and Jessica Jacobs—all inspire me to keep up!
Favorite neighborhood in DC?
Nothing makes my little heart pitter-patter quite like walking down M Street in Georgetown. But I must admit I also have a special place in my heart for the West End since it is so dog-friendly and has so many new restaurants. Dupont and U Street are also places I frequent. Basically, I love DC as a whole.
Washington insider tips?
Tuesday is my favorite day of the week because you have such low expectations. A lot of Washingtonians travel on the weekends, so Tuesday night is the best night to get a feel for this magical city: Restaurants on K Street are packed, you can check out the US Navy Band concert at the Navy Memorial or head to a club. You can really take advantage of DC during the week, so don't wait until Friday night.
Finish this sentence: Thinking about the Metro makes me. . .
. . .Think of surfing! While I don't take the Metro too often—I'm a big walker, even in five-inch Jimmy Choos—there is something that makes me feel free like a little kid, watching the faces of all the excited tourists who can't wait to check out the Smithsonian museums. You can meet so many wonderful people while hanging ten on the orange line!
Favorite museum?
The Newseum, hands down. Before its launch on Pennsylvania Avenue, though, it was the Air and Space Museum—it even inspired me to go to space camp as a kid."
What would you change about DC?
Geez! I absolutely love this city just the way it is—packed with so many different people from all walks of life who have such fascinating stories to tell. The only thing I would change is to make direct flights to California from Reagan so I don't have to go all the way out to Dulles every time I want to go home.
As you answer these questions, what Web sites are open in your browser?
I admit I am a total Facebook addict. I also have a blank Google page open, just in case I want to Google anything, ESPN to check some scores and Under Armour because I am looking for a new pair of kicks.
There are rumors floating around that you made millions selling a start-up Web/tech business. Is this true?
Is the Pope a Buddhist?
Let's talk about your upcoming reality-TV show, Blonde Charity Mafia: Where did the name come from? Who came up with the idea?
I think someone started calling [fellow stars Krista Johnson, Sophie Pyle and me] the BCM a few years ago. I'm not too sure where or when it came up or that we ever really identified ourselves as the BCM. Apparently, Lifetime thinks it's a good name­—oh, well!
How will the show distinguish itself from The Hills and other reality shows about good-looking twentysomethings?
Ha! I really have no idea what to expect because we have not begun filming yet [ed. note: shooting for the show is now underway] , but I think the DC setting will really pull back the curtain on the old myth that DC is the Hollywood for ugly people. I just hope that more people will fall in love with this city like I have.
Some people aren't too excited about the show. Do you think they'll change their minds after watching a few episodes?
I think that a lot of people are excited for the show, and I am really excited to share many of the adventures I have had in our fine city. For those who are less than ecstatic, I challenge them to tune in. If they don't like what they see, I am sure they can find something wonderful to do in DC while their friends are tuning in.
Last year the Georgetown/Late Night Shots crowd caught some flack after the publication of an article in the City Paper. What are your thoughts on it?
I really believe that there are two sides to every coin, and it is a lot easier to focus on the negatives than it is on the positives. Late Night Shots has been a phenomenon in transforming the DC social landscape, whether it be in unfortunately polarizing different communities or positively by providing a means for a virtual community based on a tangible geographic location and allowing for community-building through online communication. There are a lot of personalities on the site and in the Georgetown community, and unfortunately the spotlight was shed on some of the negative aspects as opposed to highlighting some of the amazing characters who makeup the DC social landscape.
Want more Washingtonian Favorites? Check out last week's interview with DC Shorts Film Festival organizer Jon Gann here. The festival kicks off tonight, so it's your chance to learn more about the event. Also, don't forget to check back in next Thursday for our interview with author Curtis Sittenfeld, whose recent book American Wife—about a First Lady who sounds a lot like Laura Bush—has been stirring some controversy. Read an excerpt from the novel here.
Related:
Washingtonian Favorites: Svetlana Legetic
Washingtonian Favorites: Lindsay Czarniak
Washingtonian Favorites: Barton Seaver
More>> Capital Comment Blog | News & Politics | Society Photos