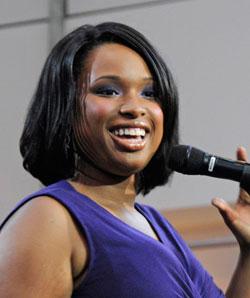 With fewer than 50 days left until the presidential election, a few dedicated people with grueling schedules are traveling across the country, hoping to connect with voters—and I'm not talking about the candidates. Diane Sawyer, Robin Roberts, and the rest of the Good Morning America team broadcasted live from the Newseum this morning as part of their Whistle-Stop train tour, an ambitious initiative by ABC News and USA Today to visit 50 states in 50 days.
Former American Idol contestant and Oscar winner Jennifer Hudson performed this morning at the Newseum—an appearance that prompted one fan to camp out all night and others to travel from hours away.
The doors to the Newseum opened at 6:30 AM, and guests were escorted into the Annenberg theater. A large television screen showed commercials and footage from the show, which was filmed on another of the Newseum's seven floors. While waiting in the theater, guests buzzed about Hudson and waited patiently. After a half hour of ads, the Good Morning America interview with Michelle Obama and Mary Biden came on as visitors were invited to go upstairs to see the show live. People cheered and waved at the cameras as they rode up the escalator to the main entrance hall, and under the high ceilings of the airy foyer, the crowd gathered excitedly around the stage where Hudson would perform.
At 8:30, Hudson appeared, radiant in a purple dress, and signed autographs until Diane and Robin joined her for an introduction. After receiving congratulations on her engagement, upcoming album, and new movie, Hudson transformed into a powerhouse of soul as she hit high notes and sang with emotion. She first performed "Spotlight," from her new album, and then her legendary rendition of "And I Am Telling You I'm Not Going," from Dreamgirls.
After her set ended, Hudson left the stage to much applause, and the Good Morning America anchors came back on to say goodbye before scurrying off to their next destination.
More>> Capital Comment Blog | News & Politics | Society Photos