Eclectic Mix
When Ana Marie Cox—Washington editor of Radar magazine and creator of the Wonkette Web site—and husband Chris Lehmann bought their 1920s house in DC's Brightwood, the first order of business was to overhaul the kitchen. Lehmann, a senior editor at Congressional Quarterly, does most of the cooking, but Cox had a few requests of her own for Alexandria architect Benjamin Ames and interior designer Marnie Kenney. Several walls were removed to incorporate two closets and a mudroom and to connect the kitchen to the breakfast room, study, and dining room. Doing so made room for Cox's priorities, a combined TV and computer terminal and a second sink.
To keep the project affordable, Ames says, "we mixed it up with custom and off-the-shelf pieces"—such as Ikea cabinets and Calacatta-marble countertops. The marble can stain, but Lehmann takes that in stride as "part of the happy squalor of making and eating food."
Cox chose the tiles for the floor and backsplash. "Green is Ana's favorite color, so the palette was rather nonnegotiable," says Lehmann. Kenney found stainless-steel open shelves—not visible in these photos—at a medical-supply store. "I am Ana's polar opposite when it comes to domestic order," says Lehmann, "so we wanted a versatile and open main shelving area to accommodate the pots and pans that saw the heaviest rotation."
Says Ames: "It's a nice eclectic mix of modern details and warm, almost Craftsman-style details."
Arlington judge Bill Newman and his wife, Washington Mystics president Sheila Johnson, enjoy cooking for friends in their Middleburg home. Says the kitchen's designer: "The island is more of a furniture piece, and people gather around it."
Photograph by Bret Littlehales .
Country Chic
BET cofounder and Washington Mystics president Sheila Johnson and her husband, Arlington County Circuit Court chief judge Bill Newman, do a lot of entertaining at Salamander Farm, their home near Middleburg. When they decided to renovate the kitchen, they contacted Anne Decker of Bethesda's Rill & Decker Architects. Says Johnson: "I wanted my kitchen to be not only beautiful but also functional. Bill and I enjoy cooking our finest meals for close friends."
Decker says her clients "wanted a breakfast area with a strong connection to the outside, so we created a breakfast room with French doors on all three sides that bring light into the heart of the kitchen." (It's visible in the background of both photos.) The kitchen floor is antique limestone, which has a rich patina and matches the paving outside. Because Johnson and Newman wanted the kitchen to blend with the rest of the house, the custom cabinetry—by Potomac Valley Builders, the project's general contractor—was painted to match the woodwork in other rooms.
The kitchen is a little dressy, says Decker, because it's located off the formal dining room: "The island is more of a furniture piece, and people gather around it." The island's countertop is a single piece of Calacatta gold marble, 2½ inches thick. "It was hard to get a slab that thick," says Decker," so we had to send to Italy." The main countertop is honed granite.
The five-foot-wide La Cornue professional range has a mix of brass and polished nickel with what Decker calls jewellike detailing. Because Newman enjoys cooking, "there's a little prep sink to the left of the main range, so that's his working area." There's also a prep area for caterers.
The guest kitchen in Marc Pachter's basement has a large portrait of Pachter with his son, daughter-in-law, and daughter. "It's good design to know that you don't have to use a small work in a very small space," he says.
Photograph by Anice Hoachlander.
Compact and Bold
In the basement of former National Portrait Gallery director Marc Pachter's home in DC's Cleveland Park is a small guest suite with its own kitchen. (See the upstairs kitchen on page 151.)Pachter wanted bold colors and dramatic elements, but the basement was dark and its ceiling low. To compensate, DC architect Reena Racki added a window looking onto the backyard garden—to the left of the table in this photo—and used white Celador, a synthetic material made in part from quartz, for the floors plus bright halogen lights.
Pachter created the suite in part so that when his son, daughter-in-law, and granddaughter come to visit, they have their own space. Because they wouldn't be preparing big meals down there, there's no range. Instead, the kitchen features a small undercounter refrigerator as well as a microwave, dishwasher, espresso machine, and DeLonghi toaster. Racki got the Inox table—just 251⁄2 inches across—from Switzerland and the chairs from Design Within Reach.
One wall is adorned with a family photo—of Pachter, his son, daughter-in-law, and daughter. "It's a professional photograph, so it could be blown up big enough to cover the wall," Pachter says. "It's very good design to know that you don't have to use a small work in a very small space."
Musician J. Reilly Lewis and wife Beth in their renovated kitchen. Beth, a former cook and caterer, says the design is conducive to holding informal cooking demonstrations for friends. Photograph by Bret Littlehales.
Contemporary but Cozy
J. Reilly Lewis may be founder and conductor of the Washington Bach Consort, but his wife took the lead in the redesign of their North Arlington kitchen. A former cook and caterer and a graduate of L'Academie de Cuisine, Beth Lewis wanted a contemporary style in their galley kitchen—designed by Caryn Slattery-Walp of Stuart Kitchens in McLean—because it's an efficient arrangement for cooking. It also comes in handy when she and her husband entertain because their friends like to watch her cook and pick up tips. "They love that part of coming over," she says, "because it's a cooking lesson."
The cabinets—from Acorn in Kitchener, Canada—are cherry with a chestnut finish, and the granite countertops are polished "cosmic black." Says Beth Lewis: "They're really not black black. They're almost more gray, but they have a lot of swirls and sparkles. It really looks like the cosmos." The pendant lights, from Dominion Electric Supply Company in Arlington, are hand-blown glass and, Lewis says, look like stars.
The refrigerator/freezer is Sub-Zero, and the oven, cooktop, hood, microwave, and warming drawer are Wolf. The warming drawer was especially important to Lewis, who says she never knows what time her husband will be home from rehearsals. She also added a banquette off to one side of the room: "When you go to a restaurant, everybody wants to sit in a booth. We like that cozy situation so you can solve the world's problems over a bottle of wine."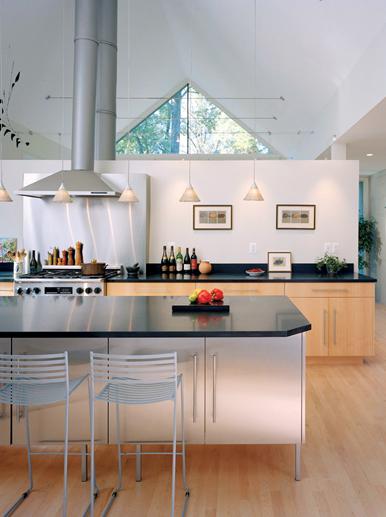 Clean Lines and Sunlight
Natural light is a central feature of this Vienna kitchen designed by architect Randall Mars of McLean. The south-facing window over the sink, which goes all the way down to the counter, brings in "wonderful morning dappled light," says Mars. More light streams into the kitchen over the low wall dividing it from the living room.
On either side of the wall, the flues are for the Dacor range and living-room fireplace. Mars got the QuakerMaid cabinets from Harvey's Kitchens & Baths in Sterling because the firm offers both the stainless-steel veneer, which he used for the island, and the maple, used in the rest of the kitchen. The heated floors are also maple.
The countertops are honed "absolute black" granite. The material shows fingerprints and other marks, but the owners don't mind. "They keep it clean," Mars says, "but they don't obsess over keeping it immaculate. It's just a sign that it's being used."
A Vision in Wood
A small expansion was part of this Potomac renovation by designer Jerry Weed, owner of Kitchen and Bath Studios in Bethesda. The original kitchen ended just to the left of where the farmhouse sink now stands. Weed also designed the small table next to the island—the owner pulls the table out for bridge games—and echoed the details of its legs in the lower cabinets on either side of the sink.
The cabinetry—by Christiana Cabinetry in Pennsylvania—is a distressed and glazed maple; the island is distressed maple that's painted black, then sanded to make it look worn, then covered with a clear top coat so it won't discolor or warp. The floors are oak, and the backsplash is ceramic tile. The two middle drawers in the island are Sub-Zero refrigerator drawers. A breakfast room is to the left of the hanging upper cabinets.