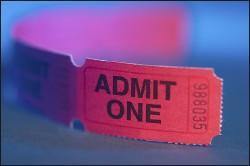 It's been a couple of years since we've heard a new album from the English rock band Oasis, but it's back! The group launched its new album, Dig Out Your Soul, this week on MySpace (released in stores October 6) and is prepping for its first US tour in three years. It will play the Patriot Center with Ryan Adams and the Cardinals on Saturday, December 20. Regular tickets ($49.50 to $69.50) go on sale Friday, October 3, at 10 AM, but you can get presale tickets today until 10 PM—the password is "wonderwall."
The Against Me! and Ted Leo & the Pharmacists show at the Black Cat next week is sold out, but you can still catch Ted Leo before the year is out, only this time he'll be performing solo. He returns to the Black Cat on Saturday, December 13. Tickets are only $10 and go on sale Friday.
R&B singer Usher is all grown up these days—he got married and became a father in the last year—but he's still writing hit songs, like this summer's "Love in This Club," off of his latest album, Here I Stand. His fall tour comes to Warner Theatre on Tuesday, November 4. Tickets ($102) went on sale this morning.
The night after they play with Kings of Leon at DAR Constitution Hall, indie-pop rockers We Are Scientists will perform at Sonar on Tuesday, November 11. Tickets ($15) go on sale Friday at 10 AM.
Jay-Z has been known to sell out shows in minutes, so in case he doesn't come to Washington anytime soon, we thought we'd tell you about his show at the John Paul Jones Arena in Charlottesville on Saturday, October 25. It's a bit of a drive, but for dedicated fans it may be worth it. Tickets ($49.75 to $195) go on sale Friday at noon.
Tickets to Marc Broussard's show at Rams Head on Thursday, November 13, went on sale last week for $22 each, but you can catch him a few days earlier on Saturday, November 8, at Sixth & I Historic Synagogue. Tickets ($20) go on sale Friday at 10 AM.
Amy Ray, of the folk-rock duo Indigo Girls, is touring in support of her newest solo album, Didn't It Feel Kinder. She'll perform at the 9:30 Club on Friday, November 14, with opener Jennifer O'Connor. Tickets ($15) went on sale this morning.
More>> After Hours Blog | Arts & Events | Happy Hour Finder | Calendar of Events