Eric Nuzum doesn't find himself in unsettling situations—like spending a night locked in a hotel suite with a ghost or trying to meet up with a self-declared vampire at a deserted park in the middle of the night—by chance. It's his choice. He actively engages in questionable behavior, full throttle, never stopping to second-guess himself—and his stories (if not always he himself) are all the better for it.
For his latest book, The Dead Travel Fast: Stalking Vampires From Nosferatu to Count Chocula, Nuzum sought to experience vampirism to its fullest extent—even if it meant drinking his own blood (and then vomiting all over his kitchen). His quest also led him to work at a haunted house and, later, take a Dracula-themed tour of Transylvania. At his bravest, Nuzum decided to plow through the entire Anne Rice vampire collection. Talk about a lapse in judgment.
When not putting his life, sanity, and physical health in jeopardy, Nuzum works as director of programming and acquisitions at NPR. He also guest-writes for the local blog Prince of Petworth. Nuzum is already working on his next book, a memoir about how his phobia for ghosts developed, but he'll be reading from The Dead Travel Fast at the Barnes & Noble in Georgetown tonight at 7:30. Make sure to check the event out—free vampire-protection kits will be handed out—and read our interview with the local author below.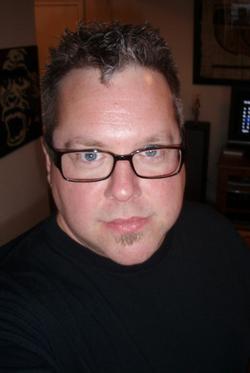 Name: Eric Nuzum.
Age: I'm 42, look 32, and act 12.
Occupation: Director of programming and acquisitions at NPR, writer, and nonsense provocateur.
Hometown: Canton, Ohio—home of the Professional Football Hall of Fame and at least ten varieties of smoked kielbasa.
Must-have item at all times:
Um, my feet and hands? They're kinda essential. Of course, now I'll get an e-mail from an advocacy group informing me that hands and feet are not, in fact, essential. So instead I'll say pants. I think everyone can agree that having pants at all times is a good thing. I fear I've permanently damaged my karma with this answer, like I'll end up in a terrible accident in a few months where I'll lose my hands, feet, and pants.
Signature drink:
I love beer, but who doesn't? Even my grandmother, who has had a grand total of two beers in her entire life, loved both of them. I would have to say that Yukon Jack (the black sheep of Canadian liqueur) occupies a special place in my heart and (unfortunately) my history. My favorite DC bar, the Looking Glass Lounge, stocks it just for me. Well, I assume it's just for me. No one else ever drinks it. It's kinda terrible.
Finish this sentence: When not working, you can find me . . .
. . . working. I'm one of those people. I'm not a workaholic or anything; I'm just always busy. Sometimes I'm painting a room or fixing a door or writing or baking. If you find me awake, there's a pretty good chance I'm in the middle of something.
Washingtonians you admire?
I'd have to say Concepcion Picciotto, the woman who's been sitting across from the White House protesting nuclear arms for 27 years. It isn't that I agree (or disagree) with her position or methods, I just respect the fact that anyone can do anything for that long. I mean, I can't even stay interested in an episode of Heroes for 42 minutes. I simply don't care. Her encampment does look a bit dated, though (didn't yellow protest signs go out in, like, 1987 or something?). Maybe I could campaign to get Concepcion on an episode of Top Design—perhaps a more contemporary palette would help her change the world.
Favorite neighborhood in Washington?
That's hard for me. When it comes to Washington—which has been my home for more than four years—I really feel like something between a sojourner (at best) and an interloper (at worst). I think I'd have to answer Petworth, where I live. Its a neighborhood that's had its teeth kicked in for several decades, but walking around there today, you can feel a small sense of hope brewing. It's exciting to witness.
Washington insider tips?
Rock Creek Cemetery is the best-kept secret in DC. It has nothing to do with the fact that it's a cemetery; it's just an amazing place. If you've ever been deep inside Central Park, you've probably experienced that weird feeling of the bustling city melting away, and things become suddenly so quiet, peaceful, and calm. Rock Creek Cemetery has that same effect. Plus, there's some amazing statuary and art in there as well.
Finish this sentence: Thinking about the Metro makes me . . .
. . . wonder why there's such a difference between the way people behave on the subway versus the bus. I mean, it's a marked difference. I've written about this before. I'm at a total loss why you only see a fraction of the crazy stuff on the subway that you see riding the bus, despite so many more people on the subway. Despite all the nonsense and nuttiness, I actually think people are nicer on the bus. You see people giving up their seats more often, everyone allows the older people and ladies to board buses first, and then there's the whole subculture of transfer sharing that's amazing to witness.
Favorite spot to write:
A lot of people overritualize and fetishize writing. I don't. Similarly, I also duck every question I get about my writing routine. I don't have one. It's something I do—I can do it anywhere. When I was a music critic, I had to write drafts of my concert reviews on napkins in crowded clubs. Any situation where I can focus enough to write is a perfect time or place to do it.
What would you change about DC?
You can't get a decent pancake in this town. Nowhere. It surprises me how absent breakfast is from our restaurant scene. Where I'm from (Ohio), people eat out for breakfast almost as much as they do for other meals—it's the working man's meal out. I miss that.
As you answer these questions, what Web sites are open in your browser?
Well, I have my e-mail and blog reader open, but I think everyone would say that. I think I use items around my computer as potential distractions or thought-delineating devices rather than anything on my computer. My desk has lots of little toys: a Grim Reaper doll, a mini Etch-A-Sketch, a nun-shaped squeaky toy—stuff like that. It's a lot more fun than surfing eBay.
In your book, The Dead Travel Fast: Stalking Vampires From Nosferatu to Count Chocula, you mention watching some terrible vampire movies as part of your research. What about the best? What are your top five best vampire movies?
Well first off, just to clarify—I don't think there's such a thing as a nonterrible vampire film. They are all awful. I should know this because I watched 267 vampires films while researching this book. They all capture the vibe of the times in which they were created—unfortunately in a way that doesn't age well. That said, I definitely have my favorites. There is Shadow of the Vampire, starring Willem Dafoe, which is pretty much a legitimately good vampire film. Then there's my personal favorite, Jesus Christ Vampire Hunter, in which Jesus returns for the second coming and uses his kung fu skills to defeat a cult of vampires that has taken over the Earth (oh, and it's a musical); Rape of the Vampire, a French film (it contains no rape, by the way, just a bunch of scared people screaming at the camera); Zoltan Hound of Dracula, about Dracula's vampire dog (seriously); and Vampirella, a terrible adaptation of the comic series that stars Roger Daltrey—the singer for the Who—as Count Dracula, who now fronts an '80s-rock band even though the movie takes place in the '90s."

Which would be the most effective way of torturing you—having you spend a night locked in a hotel room with a ghost (again) or forcing you to read the entire Anne Rice vampire series?
I'd definitely have to say Anne Rice. One night in a hotel room would pale in comparison to the months, if not years, it'd take to crawl your way through all those abominable Anne Rice vampire novels. Good Lord, I think they are all 800 pages apiece or something—and there's, like, a dozen of them. They're just like the Harry Potter books, except bad.
While researching historical figures like Vlad the Impaler and Bram Stoker, was there anything that struck you as surprising or unexpected about their stories?
My book not only documents my terrible lapses in judgment, but it's packed with fun facts about Vlad, Bram, and other vampire icons. For Vlad, it was how crazy he was—it makes being a vampire pale in comparison (no pun intended). Even the most conservative estimates say that Vlad the Impaler killed tens of thousands of his own countrymen, just to keep order. For Bram, I'd have to say it was his infatuation with Walt Whitman. I didn't see that one coming. Stoker was obsessed with Whitman at various points in his life. In fact, if you look at photos of Whitman, you see many physical similarities to the way that Stoker described his Count (Stoker's Count looked nothing like Bela Lugosi, FYI). There are those who feel that Stoker envisioned Dracula as the perfect man. In Stoker's mind, Whitman was about as ideal as they came.
In the book, you also talk about "home haunts," a growing trend in which people transform their homes into elaborate haunted houses for Halloween. Any chance you and your wife, Katherine, will be dressing up your Petworth home this year?
If I had my way, our house would look like a haunted house all year round. I'm constantly trying to sneak in skulls, quivering severed limbs, and so on. Katherine will having nothing to do with it. This year, I tried to pitch her on putting a zombie garden sculpture in our front yard. She rightly pointed out that we live in Petworth and it would probably disappear in less than an hour."
Would you consider writing about other scary creatures (zombies, werewolves, etc.) for your next book?
Well, my next book is a memoir about a year of my life when I became scared of ghosts (because I was a messed-up kid who took too many drugs and became convinced that a ghost was trying to kill him—it's kinda complicated). To make sense of that time in my life, I visit a lot of haunted places and basically see what happens. Considering the subjects of these books, I'm actually quite worried about getting pegged with this spooky stuff, so I think my next next book will be about Santa Claus or kittens or something.
Other Washingtonian Favorites:
David Malitz
Curtis Sittenfeld
Katherine Kennedy
Barton Seaver
Lindsay Czarniak

Want more Washingtonian Favorites? Check out last week's interview with photographer Hatnim Lee. Also, don't forget to check back in next Thursday for our interview with actress Meghan Grady. Grady has been in a number of local productions, including Speed-the-Plow, and will next be seen in Alice, an adaptation of Alice in Wonderland, for Round House Theatre.
Want to recommend someone you know for a Washingtonian Favorites? Send your suggestions to asalinas@washingtonian.com
More>> Capital Comment Blog | News & Politics | Society Photos