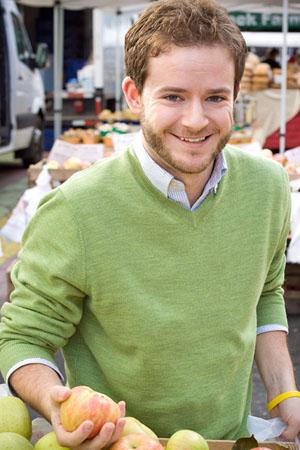 Max Schwartz, 23.
Lives in: Washington DC.
Makes a living: Blogging on legal issues.
Background: I grew up in Minnesota and went to school in New Hampshire. For the past year, I was working in Idaho for the National Park Service. Then I moved to DC in June. So far, the career-type choices I've made have been about fleeing the place I was in. When I was in Minnesota, I said I wanted to put a mountain range between where I grew up and where I went to school (Dartmouth). Then I wanted to get out of New Hampshire—I loved my time there, but it was time to do something else. I didn't want to get stuck in the same kind of situations that I see a lot of people get stuck in—jobs that aren't that interesting but pay well. I went to Idaho and worked with the park service's forest-fire group, mostly on communication issues. Then it was time get out of Idaho. I always wanted to end up in DC. I'm really interested in politics. DC has the kind of people I really like—ambitious and outgoing but dorky.
Dating history: The social dynamics of the places I've gone through have been kind of odd. The high school I went to was a small college-prep school. Because everyone was in everyone else's business, it discouraged people from dating. I went on dates but didn't really date. Then right away my freshman year of college, I jumped into my first super-serious relationship, and we dated for about 13 months. For the rest of my college career, I just bounced around. Dartmouth is small, with a lot of overachievers. It puts together an odd dating community. Since I left, things have been a lot better. I've had a series of semiserious relationships that lasted about two months, and then we stayed friends. I'm still at the point where dating someone for six months seems like a pretty long time.
First-ever date: Dinner before a Valentine's Day dance in the ninth grade.
Your type: I like smart people. I want someone who is athletic and outdoorsy. I like to go running with people I'm dating. I want to date someone who is interested in good food and exploring restaurants and going to food festivals. I know a lot of people who limit themselves politically. I don't have any problem dating someone who is conservative. It would drive me nuts to date someone apolitical.
Dating deal breaker: I don't want to tilt my head back when we kiss. So if you're taller than me, please wear flats.
Famous-person crush: Anne Hathaway, particularly as Agent 77 in Get Smart.
Why you're a good catch: I love to cook. I hear that's hot right now. I'm a dog-loving, marathon-running vegetarian. Basically, I'm Stuff White People Like, which I also hear is hot right now.
Would you elope? Here's the cheater answer: It depends on the girl. I'm a good Jewish boy, so it would have to be a great girl if I was going to piss off my mother like that.
Thing that sweeps you off your feet: Aren't I supposed to be doing the sweeping, or is that just exposing my chauvinistic worldview?
Finish these sentences:
My high-school prom was . . .
. . . unmemorable. Don't tell me high school was the best four years of my life, because it clearly wasn't.
Happily ever after is . . .
. . . something best left to fairy tales, or these days to the never-ending series of Shrek movies.
Romeo and Juliet is . . .
. . . a good play? I don't know. I don't want to make too many comparisons between my life and the lives of doomed lovers who both end up dying at the end of the story. Seems kind of depressing.
Sarah Palin is . . .
. . . making me reconsider my previous attraction to Tina Fey. I'm not sure I want to think about either of them anymore.
Hillary Clinton is . . .
. . . great—don't get me wrong. But I still like Bill better.
FAVORITES
Tunes: I generally make a playlist for every season. I'm trying to change my music.
TV: Mad Men, Lost, 30 Rock. That's all I watch besides crappy TNT daytime movies when I'm hung over.
Movies: I own almost no DVDs, and the ones I own are mostly TV shows—The West Wing, South Park.
Books: The Yiddish Policemen's Union by Michael Chabon. I own a whole bunch of books, like The Cactus Eaters and Into the Wild. I have a whole shelf in my library devoted to forest-fire fighting. My year in Idaho was the culmination of my middle-school fantasy.
Favorite drinks: Gin and tonic in the summer. Gin and gimlet in the winter.
Favorite restaurants: The best meal I've had in DC was at Rasika. I also like Etete.
Favorite bars: Solly's, Local 16.
Sports: Running—it's the only sport I'm capable of competing in. To watch, football.
Previous Daters:
Kate Searby
Mark Drapeau
Michael Amesquita
Sally Colson Cline
Check back at washingtonian.com/datingdiaries to meet more of our daters.