If you've been following Stylista, The CW reality show where contestants vie for a junior-editor position at Elle magazine, you know last night's episode was not local contestant Johanna Cox's shining moment. Burdened with a lackluster team and poor strategy, Cox—who prior to joining the show penned the popular fashion blog A Serious Job Is No Excuse —found herself in the bottom two.
Our stomach dropped and our eyes teared up as the normally cool and collected Cox imploded in front of the cameras. Was this the end of the road for our local girl? Could she really be getting the boot before Kate? Nooooo.
In the end, it was fellow bottom contestant Danielle who was eliminated, giving Cox the opportunity for redemption. Phew!
We talked to Cox about DC's fashion scene, the magazine industry, and Stylista, of course!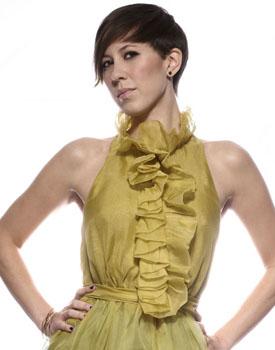 Name: Johanna Cox.
Age: 28.
Occupation: Chinese linguist and analyst, Defense Group Inc.
Hometown: Okemos, Michigan.
Signature drink:
Before I started cutting carbs with a vengeance, I was a steadfast Stella Artois girl, but recently I've been partial to half-strength Hangar One Mandarin vodka sodas.
Must-have items at all times:
Kiehl's Crème de Corps lotion, black eyeliner, black nail polish, a change of workout clothes, Dum Dum lollipops.
Finish this sentence: When not working, you can find me . . .
. . . boxing, moisturizing, or touching up my eyeliner.
Washingtonians you admire:
The people I most admire in Washington are those who have mentored me professionally. Most notably, James Mulvenon, Kevin Pollpeter, and Bob Sutter.
Favorite DC neighborhood:
Logan Circle."
Washington insider tips:
I'm not really an insider. The best I can do is to tell people to avoid Georgetown at all costs, especially on the weekends. Nothing but entitled, preppy trouble in that part of town.
Finish this sentence: Thinking about the Metro makes me . . .
. . . thankful I have a four-block walk commute and almost never ride the subway.
Favorite designer:
Tie: Roland Mouret and Alexander Wang.
Finish this sentence: If I could change anything about DC it would be . . .
. . . to have more enclosed dog parks near my apartment, and the nearby Barney's Co-op would carry more Helmut Lang and Alexander Wang.
As you answer these questions, what Web sites are open in your browser?
Facebook, Dlisted.com, Baidu.com, Jezebel.com, and BridalBird.wordpress.com.
What five items should every woman have in her closet?
Five items she loves that flatter and fit her body properly.
We all dread the sight of the stockings-with-tennis-shoes combo, but is Washington really as unfashionable as people make it out to be?
Compared to New York, Milan, London, and Paris, yes—DC is that bad. I don't have a pipe dream that I'll one day see DC morph into a style mecca—our conservative industries aren't conducive to the kind of fashion-forwardness you see in those other cities—but I do hope there comes a time when women here will recognize and embrace the notion of empowerment through more thoughtful wardrobe choices.
Any career advice for those trying to enter the fashion-magazine industry?
I'll say that the most important qualities to have are a healthy sense of self-awareness and a genuine passion for the subject. The "it's just fashion, it's not that deep" attitude really irks me, not only because I find it incredibly insulting to the designers, for whom creating collections is just as much an art form as any painter or sculptor creating their more respected works, but also because that kind of industry-deprecating view perpetuates the idea that working in fashion is tantamount to playing dress-up. It's not that at all—it's an industry filled with talented, hard-working people who, in most cases, are earning less than half of what they could be earning elsewhere. I don't pretend a life is saved every time a trend page is published, but I definitely believe respecting the work for the art is critical if you want to enter the fashion editorial ranks.
Do you keep in touch with people from the Stylista cast?
I do. There are three people I'm in contact with on a very regular basis. If nothing else comes of my involvement with Stylista, at least I fostered friendships with people I never would've met otherwise.
Favorite places to shop in DC:
I feel bad for saying so, but I do 100 percent of my shopping online or in New York City. I might see a great Lim dress at Muléh or a McQ skirt at Terra, but because I'm such a seasoned online shopper, I know I'll be able to find the same item online with free shipping and a 20-to-30-percent-off discount code.
Other Washingtonian Favorites:
David Malitz
Curtis Sittenfeld
Katherine Kennedy
Barton Seaver
Lindsay Czarniak
Want to recommend someone you know for a Washingtonian Favorites? Send your suggestions to asalinas@washingtonian.com
More>> Capital Comment Blog | News & Politics | Society Photos