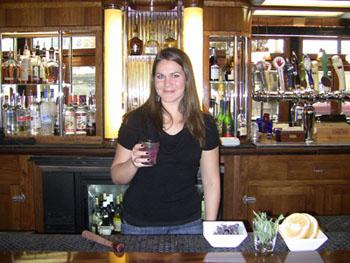 "Every little girl wants to be like her dad," says Restaurant 3's bartender Ria (short for Alexandria) Freydberg about her early start in the business. "Much to my dad's dismay, that meant bartending for me."
Freydberg's career began as a toddler, watching her father work the bar at the Riverwalk Fish and Ale House, a popular restaurant in Naples, Florida. "I remember sitting at the bar, eating garnishes like cherries and pineapple slices while my father did bar inventory," she says.
She began working at the restaurant when she turned 13 and continued to do so up until her move to DC to attend George Washington University. She tried focusing on school and her studies for a while, but it wasn't long before Freydberg found herself missing the hustle and bustle of the restaurant scene: "Apparently this is in my blood," she says, laughing.
She picked up a part-time job working at Whitlow's on Wilson Bar & Grill in Arlington while still enrolled in school, and upon turning 21 she moved behind the bar. Freydberg stayed at Whitlow's until 2005, when the opportunity to work as a liquor-sales representative presented itself.
"I thought it was going to be a very natural progression," she says of the job. "But I soon realized I liked being behind the bar, not on the other side."
After a year, she was back at Whitlow's before making the move to Restaurant 3 once the place opened in November 2007. For Freydberg, the transition was a welcome opportunity to give free reign to her creativity: "I had grown tired of making the boring SoCo limes and kamikazes," she says. " Here, I was able to talk to the chef about using fresh ingredients and produce and really start playing around with different ideas for cocktails."
The idea of using fresh produce stuck with Freydberg, and she started a farm-to-glass cocktail program in May, designing the restaurant's cocktail list around seasonal fruits and vegetables grown on local farms. Freydberg's creations include the Strawberry Fields, made with citrus vodka and Cointreau, and a variation on the classic sidecar cocktail using yellow plums.
Every season, Freydberg tries to push the envelope further in terms of her cocktails but is careful about making them too esoteric: "My goal is to create complex cocktails that are both quantity- and quality-efficient."
"I have a lot of respect for mixologists who do wildly experimental cocktails, but that's not really my style," she says. "I like being creative, but I also try to make the drinks accessible enough for other bartenders to make."
Below, watch Freydberg make the Concord Lavender, one of her popular farm-to-glass cocktails.
Concord Lavender ($10)
Ria Freydberg, Restaurant 3
1 ounce citrus vodka
½ ounce lavender syrup
6 to 8 Concord grapes
¼ pint glass fresh grapefruit juice
Muddle the grapes in a shaker until the skins are broken down. Add vodka, lavender syrup, grapefruit juice, and ice. Shake. Pour into a highball glass and garnish with a sprig of fresh lavender.
Related:
Buzzed: Rico Wisner's Mr.s Know-It-All
Buzzed: Alice Gaber's Opal
Buzzed: Gina Chersevani's Georgie Rickey
Buzzed Justin Guthrie's Whiskey Sour
Buzzed: Chantal Tseng's Sazerac
More>> After Hours Blog | Arts & Events | Happy Hour Finder | Calendar of Events