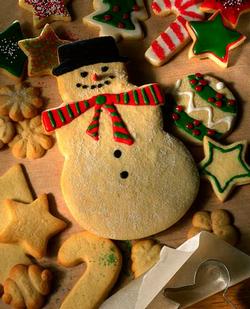 If you could only put out one holiday decoration, what would it be?

Deborah Houseworth of DLH Design Studio in Chevy Chase: "Fresh plants—such as amarillis— in real pots, like cracked red or gold."
Camille Beers of Camille Beers Design Studio in Reston: "A giant glass hurricane. It works with all holiday decorating styles and is always a crowd pleaser whether filled with bright bulbs, a jumbo candle, rocks, or greenery."
Karen Luria of Karen Luria Interior Identity in Alexandria: "Wide, wired ribbon is festive, colorful, and textured. It can also be recycled and used in a different room in subsequent years to create an entirely new look."
What are some inexpensive ways to make your home feel ready for the holiday season?
Camille Saum of Camille Saum Interior Design in Bethesda: "Head to the nearest Home Goods store. It has fabulous assortments of Christmas decorations for sensible prices."
Karen: "Greenery and ribbon. Try to create a collection of ornaments that can be built upon and rotated from year to year."
Camille Beers: "Homemade items are a must in my home. Painting and glittering up pine cones is a creative way to embellish mantels and, of course, the tree. Holiday-shaped, decorated sugar cookies in a clear glass container also bring on the holiday cheer."
Any advice for decorating a small space like a teeny apartment?
Deborah: "Be watchful of scale. Use a narrow tree with vertical, cascading ribbon to draw the eye up and make the space feel larger."
Dee Thorton of Houseworks Interiors in Alexandria: "Pick the focal point in the room. If there is a fireplace you could choose a color scheme like white and green with silver accents. You could put greens or white poinsettias in or around the fireplace. Or put some simple greens on the mantle and intersperse silver balls."
Camille Saum: "A small tree with tiny lights, a few small family pieces that hold fond memories, and candles with a hint of Christmas scents would create a timeless setting."

How can people keep from going overboard with the holiday decorations?
Dee: "Think about decorating for Christmas as you would about putting jewelry on: Little things go a long way. Keep things fresh and keep the color scheme simple."
Camille Beers: "Set a budget. Take pictures of your spaces then print them on regular paper—you can sketch on the print-ups and design your space, which will give you a clear idea of what you want."

Shopping

→ Gifts for Geeks: Holiday Wish Lists From Local Techies
→ Jingle Bell Shopping: Holiday Markets and Craft Bazaars
Entertaining/Activities

→ Christmas in Washington Restaurant Dining Guide
→ Tips for Decorating Your Home
→ Send Us Your Holiday Light Photos
→ Create a Holiday Cocktail Party for $75
→ Timber!—A Guide to Local Christmas Tree Farms
What to Wear

→ What to Wear to Holiday Parties