Meet our daters: Mark Drapeau | Dana Neill | Sally Colson Cline | Michael Amesquita | Kate Searby | Max Schwartz | Lucas Wall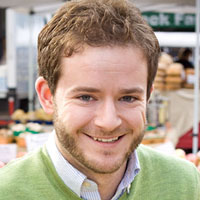 Max Schwartz made the rounds of the holiday circuit. "It was funny, actually, because at the holiday parties—at least the corporate ones—I didn't meet as many people as I expected to," he says. "People were there to stuff their faces and leave." But at a tacky-holiday-sweater party, Max scored a trifecta and introduced himself to three women.
" 'How do you introduce yourself to people?' is a hard question," he says. "People have established more wrong ways to do it than right ways. When I'm not being a wuss or intimidated by someone, I'm a go-say-hi person. The more time you spend in between when you see them and when you introduce yourself is just more time to overthink it and screw up."
He followed his own advice with the first woman he met and just said hello. "I'll definitely give this girl a call again and see if she wants to go out," he says, "but it's hard to tell if there's anything."
The second woman he met was from New York. She was talking to a few of Max's friends, and he got pulled into the conversation. And the third? "A friend was talking to one girl in a group of girls. I went over to help so he could really chat with her. I hate the term 'wingman.' It's a necessary reality of these things, but it seems very pickup-artist-on-VH1 to discuss it that way. That hasn't been my mode of meeting people. I did ended up hitting it off with one of the girls."
Overall, Max found he's much more comfortable meeting people at house parties like the tacky-sweater party. "I really dislike going out and trying to meet people at bars. I'm not just some random person dropping some cheeseball opening line."
Dana Neil thought "this would be simple because I meet people all the time, but when you have to do it, it's a lot harder. I felt like a bottom feeder at a bar at 2 AM." Traveling to Chicago on business, she struck up a conversation with a fellow traveler. Back at home, Dana was buying a present for her nephew. As she was leaving the store, a man held the door and commented on the gift. Dana introduced herself and the two chatted on the sidewalk for a while, but "we didn't exchange information or anything."
Then, at her local Starbucks, she spotted a cute man in line in front of her. "He didn't have a ring on," says Dana. "I've perfected the look-for-a-ring thing, though that doesn't always mean a lot." The two ended up at the coffee station fixing their drinks and said hello. "He said something about needing lots of sugar, and I noticed his accent," says Dana. "I asked him where he was from. Scotland. We ended up sitting at a table talking for an hour. At one point he talked about his daughter, and then he said a couple of other things that made me question it. I asked him if he was married, and he said yes. It had seemed kind of flirty. I don't know. I'd be a little upset if my husband met a woman at Starbucks and sat down and talked to her for an hour. Maybe some people wouldn't be upset, but I think it's inviting trouble."
What about you, Dating Diaries readers? Would you introduce yourself to a total stranger? Have you? How successful has it been? Let us know your stories in the comments below.