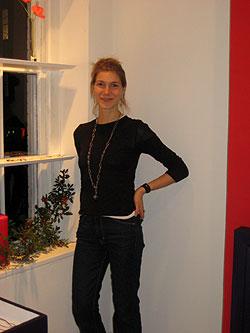 We had the opportunity to spend Wednesday night at a preview of Georgetown's newest jewelry boutique, Poppy. Named after owner and designer Heidi Hess's nickname, the tiny showroom features one-of-a-kind wearable art and jewelry in a gallery-like setting.
Hess, a college-trained metal smith, discovered her love of jewelry making from her grandmother. Last night, the 25-year-old designer was wearing a simple outfit accented by her grandmother's antique chain necklace, complete with an Antum Quislode, a vessel pendant she designed that's used to hold scraps of paper on which you write daily resolutions, prayers, and dreams.
It seems Hess is big on dreams. The idea for the shop, she confesses, came to her in one. Several months later, she says, she saw an ad for the store space on Craigslist. "I looked inside and saw my dream," she says. "I had to have it."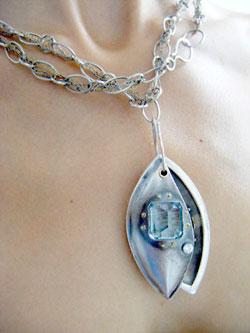 The shop features whitewashed floors and walls, an antique dining table and display case, and a fireplace with an oversized poppy painting over the mantel, also made by Hess. Small vases of the shop's namesake flower adorn windowsills and the counter.
"I want visitors to think of the shop as my parlor," says Hess. "It's a place where stories are shared and pieces are created that reflect the personal history of the wearer."
Guests can browse the works or speak directly with Hess to commission one-of-a-kind pieces and artwork. She works with silver, 14- to 24-karat gold, found objects, and natural unfinished stones.
Hess also plans to feature other new designers in her store. The opening exhibit showcases the work of Seattle-based Jessi Taylor, whose rough yet elegant earrings caught our eye not only for their beauty, but their affordability (under $100).
Although Hess sells her work online and through poppymetals.com, she'd prefer that clients come directly to the showroom.
"Each piece has its own story, its own quirks," says Hess. "I want customers to be able to touch and feel their jewels before buying them, which also allows me to make adjustments if necessary."
"I'm looking to create pieces that bear witness to who we are. My pieces are symbols for our storytelling."

Poppy, 3235 P St., NW; 202-290-1377; poppymetals.com; hjh@poppymetals.com
Hours: (Through Dec. 31) Monday through Saturday 10 to 7 and Sunday 11 to 6.
More>> Shop Around Blog | Style | Find a Spa