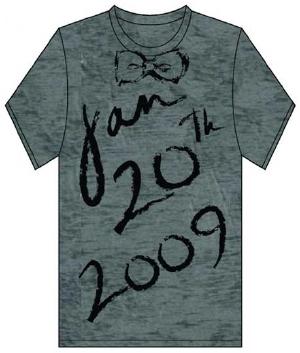 Looking to score some Obama gear? You're in luck—the president-elect launched an online store earlier this week that's chock-full of January 20 collectibles.
Available through the Presidential Inaugural Committee's (PIC) Web site, the store includes wares in eight categories: accessories, art, buttons, clothing, jewelry, kids, mugs & glassware, and "Runway to Change," featuring items created by fashion designers such as Donna Karan and Diane Von Furstenberg. To add an extra Obama touch, all items are marked "Union/USA Made."
We love the Ladies T by Zac Posen (right), a $45 charcaol-gray t-shirt that features a painted-on bow tie and the date January 20, 2009, scrawled in cursive. For less than half the price, we also like the $20 Obama Silhouette T, which has the words "One Nation" written in block letters on a screen-printed image of the president-elect's profile.
The kids' section has a t-shirt that reads "My Future Starts Now," plus Obama rulers, pencils, and puzzles. In the jewelry section, there's a lapel pin, a sterling silver charm, cufflinks, and more. Local jeweler Ann Hand's keepsake inaugural pin even makes an appearance for $75.
We just have one question for the Obama camp: Where was this store when we did our holiday shopping two weeks ago? We spied more than one item that would have made it under the Christmas tree.
>> All Washingtonian.com inauguration coverage
More>> Capital Comment Blog | News & Politics | Society Photos