As the episode opens, Hosea reminds us that half the contestants have gone home, and Carla likens the weekly challenges to "psychological warfare." Then, when discussing last week's victim, Ariane, Fabio says she was "beat with a s— stick." Did we mistakenly tune into American Gladiator? No, but we do get the famous restaurant-wars challenge, where two teams have 24 hours to create a place and get it up and running for a night of real customers. For the Quickfire Challenge, each chef must come up with one dish to represent his or her idea for a restaurant. Philadelphia restaurateur Stephen Starr is guest-judging and will decide the winners, who, instead of getting immunity, will head up the two teams. Translation: If the restaurant fails, the leader is in for some serious heat.
Radhika's cod with corn, spinach, and chorizo and Leah's Asian-inspired tempura poussin are Starr's, well, stars, and each chef is designated captain of her team. Radhika picks Jamie, Jeff, and Carla for her crew, while Leah immediately grabs Hosea and Fabio and is stuck with Stefan as the last pick.
Stefan and Fabio make things difficult for Leah by constantly trying to steal the reins. When Stefan agrees to handle dessert, he refuses to tell Leah what he'll make. Meanwhile, Radhika's group is a model of patient teamwork, but their deer-in-headlights leader looks terrified, especially when she decides to work the host stand. Perhaps to shore up some confidence, her group names their restaurant Sahana—that's Sanskrit for "strong." We'll see.
The chefs wrap things up for the evening, but before the night is over, we get the drama we've been waiting for: Leah and Hosea are cuddling on the couch, and . . . is that a little smooch? The next morning, Hosea admits that they did kiss, but he loves his girlfriend and Leah loves her boyfriend. Cue tears. In the kitchen the next day, Leah's mind is "elsewhere," and Hosea is thrown off. Nice job, Top Chef producers: We choose to watch this instead of Beverly Hills 90210 for a reason.
The next morning, on their shopping trip to Whole Foods, Fabio and Hosea come up with Sunset Lounge as the name for their Asian restaurant. That's right, Sunset Lounge. Did they drive by a strip joint and lop off the "& Gentleman's Club" part of its name?
Back in the kitchen, the contestants have had six hours to prepare for dinner service, yet they're still madly rushing through the last 30 minutes. As Jeff eloquently puts it, "I feel like a hummingbird on cocaine." We like that much better than "in the weeds."
Fabio, the Sunset Lounge maître d', claims that his team will win no matter what because of his stellar service: "We could serve a monkey's ass in an empty clamshell." Meanwhile, the restaurant fills up with diners.
The judges first visit Sahana, where Radhika is nervously pacing. Starr loves the "cucumber thing"—that would be raita—on an appetizer of curried carrot soup. But he's not wild about the tomato water that accompanies a snapper entrée. While Padma and Tom are fans of the braised lamb shank, Toby Young says the couscous on the plate "tastes like dishwater." And Carla, who had to battle a broken freezer (Thanks, sponser GE!) when making her desserts, "knows a train wreck is coming." She's got frozen yogurt on her menu. What's going on in the dining room doesn't help matters. Tom is left without silverware for the last course. The judges leave without a goodbye from the host stand because Radhika is holed up in the kitchen.
Over at Sunset Lounge, Fabio makes the rounds to every table, checking on guests and turning on the charm. First up for the judges to taste is a vegetable-roll amuse-bouche. Tom says he's tasted better frozen spring rolls. Next the judges agree that a tuna-and-salmon sashimi appetizer needs salt. A plate of braised short ribs is deemed well glazed and flavorful, but it's bad news for Leah when Starr coughs up her black cod and sends it back for being undercooked. Stefan unveils his mystery desserts—chocolate-rice parfait with grapefruit jelly and lemongrass-and-ginger panna cotta—and they turn out to be worth the suspense. The judges love them. The artful sweets, along with Fabio's warm goodbye, save the team from disaster.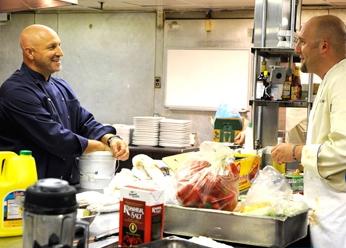 At the judges' table, Tom tells Sunset Lounge that they've won based on diners' comment cards, but only by a narrow margin. He's also quick to point out that Leah's cod was the worst dish of the night and she'd be going home if her team had lost. Still, for the second episode in a row, she escapes the ax.
On the chopping block, A meek Radhika tells the judges she has no idea what went wrong with Sahana. Tom criticizes her for not being forceful enough with her staff. "We felt like you weren't in the game," he says. After the judges knock her failed desserts, Carla admits knowing "it was a mess" but blames the busted freezer. She sheepishly says she did the only thing she knew how: She sent the desserts with some extra love. That'll work real well on Toby Young.
As the judges deliberate, Starr says that Carla should "keep the love in the kitchen and send out good desserts." Tom is adamant that Radhika should go home for her lack of responsibility and failure to think on her feet during a crisis. Tom's argument proves stronger, and Radhika is sent packing.
In a trailer for next week, we see that DC's very own Spike Mendelsohn, owner of Capital Hill's Good Stuff Eatery, makes an appearance. What we didn't see was any more action between Leah and Hosea. Does this mean the apathetic Leah will finally get her just desserts and go home?
More>> Best Bites Blog | Food & Dining | Restaurant Finder