No. 1: Komi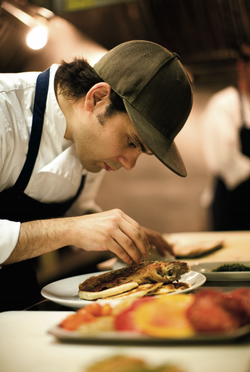 Cuisine: Wunderkind chef Johnny Monis's passionate explorations of his Greek roots have transformed a small Dupont Circle rowhouse into the area's most intimate and personal experience. Dinner is a leisurely affair, commencing with a generous sampler course called mezzethakia—small, jewellike presentations that showcase the restaurant's stellar shopping, particularly for raw fish—and ending with lusty plates of rustic meats and fishes that evoke the seaside trattorias of the Aegean.
Mood: The dimly lit room represents the best of Spartan simplicity—though some may find it bare-bones for four-star cuisine. It conveys a solidity that many more lavishly appointed rooms miss—without detracting from the excitement on the plate.
Best for: People for whom a night out means dinner, period—the more interesting and exciting, the better.
Best dishes: A mascarpone-stuffed date doused with olive oil and sea salt that couldn't be simpler or more exquisite; fresh scallop with dill and black truffle; a miniature cold-cut sandwich with house-made meats and house-baked bread; roasted baby pig or goat for two, the meats meant for layering into fresh triangles of pita and scattered with condiments; Greek doughnuts with mascarpone-enriched chocolate.
Insider tips: The tasting menu is nearly as inventive and interesting as that at José Andrés's Minibar, and the pacing and attention from the staff make it a gastronomic blowout.
Service: **** (four stars)
Open Tuesday through Saturday for dinner.