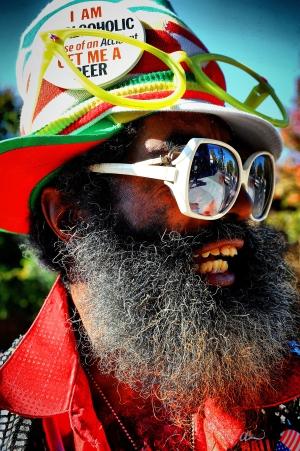 NOTE: The February photo contest poll was set to close on Saturday, February 28, at midnight, but a glitch in our online polling service prevented the poll from automatically closing. Though we closed the poll manually as soon as we noticed the glitch, voting continued through March 1. Despite our intentions to close the poll on Saturday, we are honoring the poll results through March 1. Click here to see the results.
Congratulations to Quentin Miles, whose photograph of a homeless man dressed in neon colors won our color photo contest. This was a hard-fought victory—Miles's photo eked out first place by a margin of just one percentage point. His photo will appear in our April issue, on sale March 19.
Ready to start sending in photos for this month's contest? The theme is Only in Washington—photos of people, places, and moments in time you can find only in the Washington area. Stay away from the obvious (the Washington Monument, say, or the US Capitol), and try to give us a taste for what Washington is like for locals. This contest complements our "Reasons We Love Washington" issue in May, in which the winning photograph will be published.
Here's how the contest works: You can submit as many photographs as you like, and our panel of judges selects the best ones to publish on our Web site. Then you, the reader, vote for your favorite. The winner will be announced early next month.
Submit photos—one per e-mail, please—to photocontest@washingtonian.com. Include the photographer's name, e-mail address, phone number, and place of residence along with a sentence or two about where the photograph was taken. Photos should be 300 dpi and at least four by six inches. The deadline for submissions is noon on Wednesday, March 18. Finalists will be contacted when the reader voting goes live.
Oh, and one other thing to keep in mind: All photos must be taken in the Washington area—including the Maryland and Virginia suburbs—and the photographer must be local. And yes, we'll count our friends in Baltimore and Annapolis as locals for this contest.
Good luck!
Our policy on photo rights: The photographer retains the copyright. However, because the photographer has submitted his or her photo to the contest, the magazine has the right to print the winning photograph in the current issue of the magazine and online as well as in any future issues as long as usage is related to the photo contest. The magazine also has the right to use the finalists online in relation to the photo contest.
See our gallery of past photo-contest winners here.


→ Restaurant Finder

→ Events Calendar

→ Happy Hour Finder

→ Washingtonian Blogs

→ Dining Guides