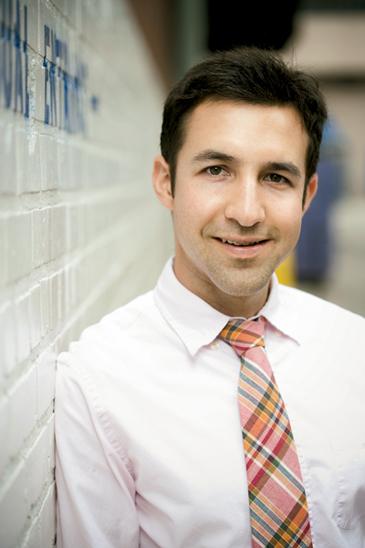 The new Washington Post reporter covering the Nationals baseball team would rather be writing about something else. Food, preferably.
"I don't like sports—I am embarrassed that I cover them," Chico Harlan says. "I can't wait to stop. It is a means to an end and a paycheck."
Harlan's candor might come as a shock to his editors and serious baseball fans, but his distance from the Nationals might make for tough reporting that's sometimes missing in Post coverage of local teams.
Tom Boswell, the veteran columnist who writes often on baseball, runs either hot or cold on the Nationals. When Major League Baseball came back to DC in 2005 and the city built a new stadium, Boswell wrote like an infatuated high-schooler. When the Nats started losing, he sounded like a jilted lover.
Harlan, 26, came to the Post last year; he's starting his first full season covering the Nationals.
"My approach might drive hard-core fans crazy because I might not get inside for that nitty-gritty play-by-play," he says. "The passion I can drum up is wanting to capture what is unique about each game. I am interested in the characters more than anything."
Harlan on Adam Dunn, the Nats' new slugger: "He's very Will Ferrell–ish in his humor. He has that half-amused smile on that big body and that curly hair. It's hard not to look at that guy and laugh."
Harlan has no smiles for the Nationals owners or top management.
Of the Lerner family he says: "They're running this team, and they remain a mystery. It drives me crazy. Cracking them will be one of my true goals of the year, my daily mission."
Mission one might be getting past Stan Kasten, Nationals president and general manager. "Stan is a bit of a control freak," Harlan says. "He wants to control every piece of information the Nationals put out.
"He hates sportswriters and agents, but he watches out for his employees. If I owned a sports team, I would want Stan involved. As much as he's a ball buster, he knows how to run a team."
When I read Harlan's quotes to Kasten, he says: "I will plead guilty to watching out for my employees."
Chico Harlan started loving newspapers while growing up in Pittsburgh. "I would get up at 6:15 in the morning just to run out in my bare feet to get the morning paper," he says. "I clipped and saved baseball stories."
At Mount Lebanon High, he went out for baseball but realized he'd be best at keeping score. His grandmother suggested he try writing for the school paper. He did, started loving the news game, and wound up getting a journalism degree from Syracuse. After graduating in 2004, he got a job with the Pittsburgh Post-Gazette. He covered sports for two years, news for a third, and then quit.
Harlan was working for the Daily Telegraph in Sydney, Australia, last year when Eli Saslow phoned to say that the Post's baseball beat had come open. Saslow, a rising star at the paper, was Harlan's roommate and best friend at Syracuse.
"Eli facilitated the sell," Harlan says.
Can Harlan sell his brand of baseball reporting to readers? Without doubt he's a talented writer of features.
"I never want to be obvious," he says. "I never want the reader to say nothing in my story caught him by surprise."
Don't be surprised if next year you read Harlan writing about food.
This article first appeared in the April 2009 issue of The Washingtonian. For more articles from that issue, click here.
More>> Capital Comment Blog | News & Politics | Society Photos