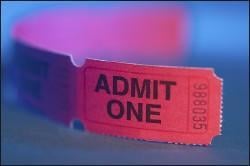 Bono recently implied that U2's upcoming 360 tour could be the band's last. Maybe that's why tickets to the first domestic shows sold out three major stadiums (we're talking at least 65,000 seats each) in just a few hours. Washington U2 fans will get their chance to see the band at FedEx Field on Tuesday, September 29. Muse will open the show; tickets ($30 to $250) go on sale Monday, April 6, at 10 AM.
The rock radio station DC101's Chili Cook-Off concert will feature the Offspring along with other popular rock acts including Third Eye Blind, Puddle of Mudd, Red Jumpsuit Apparatus, and Papa Roach. The annual event, which benefits the National Kidney Foundation, will be held at RFK Stadium on Saturday, May 16. Tickets ($35) go on sale Friday at 10 AM.
Jenny Lewis of indie band Rilo Kiley has lined up a new set of solo tour dates for the summer in support of her latest album, Acid Tongue. She makes a tour stop with rock band Deer Tick at the 9:30 Club on Thursday, June 11. Tickets ($25) go on sale Friday at 10 AM.
In other 9:30 Club news, Lady Gaga's two shows scheduled for tonight have been postponed. Hold onto your tickets—a new date should be announced soon, and existing tickets will be honored. It looks like this could have something to do with her live performance on American Idol in Hollywood last night, but either way, let's hope she'll soon make her way back to the East Coast for her shows with opening acts Chester French, the White Tie Affair, and Cinema Bizarre.
The folk-rock musician Citizen Cope recently announced a new batch of tour dates, one of which is a Sunday, June 7, show at Rams Head in Baltimore. Not familiar with his music? Go to his Web site, citizencope.com, for free downloads of two of his most popular songs. Concert tickets ($35) go on sale Friday at 10 AM.
The Rockville-based jam band O.A.R. has scheduled a summer concert at Merriweather Post Pavilion on Friday, August 7. Tickets ($30 to $38) go on sale Friday at 10 AM.
Country Music Hall of Fame inductee George Strait has spent more than 25 years in the music business and has shown few signs of slowing down. He'll perform at Nissan Pavilion on Saturday, June 13. Opening acts include country singer and Dancing With the Stars champ Julianne Hough and chart-topping country musician Blake Shelton. Tickets ($30.25 to $70.25) go on sale Saturday at 10 AM.
The Hold Steady's Craig Finn once described his Brooklyn-based band as "the band that set out to do nothing." Seven years and five albums later, the group still has a slew of gigs lined up, including a show at the 9:30 Club on Sunday, June 7. Tickets ($20) went on sale this morning.
More>> After Hours Blog | Arts & Events | Happy Hour Finder | Calendar of Events