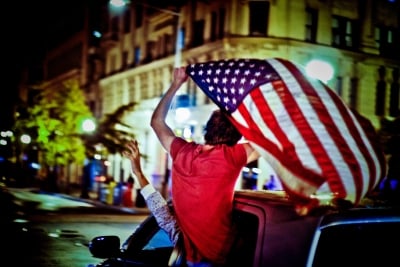 March photo contest winner. Congrats, Amanda!
*Note: The submission deadline for April has now passed. Check back soon for the finalists!
With the threat of economic apocalypse forever looming in our minds, we wanted a break from the emotional roller-coaster ride. That's why this month's theme is joy. We want you to make us happy; put a smile on our faces. It's that simple.
For the next 2½ weeks, we'll be collecting photos of whatever joy means to you. Our judges will pick the best entries, and then we'll open it up to readers to choose the winner. The photograph with the most reader votes at the end of the month will be crowned the winner and will appear in the June issue of The Washingtonian.
Submit as many entries as you'd like to photocontest@washingtonian.com, but attach only one photo per e-mail, please (more than that crashes our computer and, well, having to call the IT department doesn't make us feel particularly joyful). With your entries, be sure to include the photographer's name, e-mail address, phone number, and place of residence along with a sentence or two about where the photograph was taken. Photos should be 300 dpi and at least four by six inches. The deadline for submissions is noon on Friday, April 17. Finalists will be contacted when the reader voting goes live.
As always, we're looking for photos that were taken in the Washington area—including the Maryland and Virginia suburbs—by local photographers only. And yes, we'll count our friends in Baltimore and Annapolis as locals for this contest.
Oh, and in case you're wondering how last month's Only in Washington contest turned out, Amanda K. Gilley's "Election Night" photograph triumphed with 45 percent of the reader vote. Check out the results here, and look for Amanda's photo in the May issue of the magazine. Congrats, Amanda!
Our policy on photo rights: The photographer retains the copyright. However, because the photographer has submitted his or her photo to the contest, the magazine has the right to print the winning photograph in the current issue of the magazine and online as well as in any future issues as long as usage is related to the photo contest. The magazine also has the right to use the finalists online in relation to the photo contest.
See our gallery of past photo-contest winners here.
More>> Capital Comment Blog | News & Politics | Society Photos