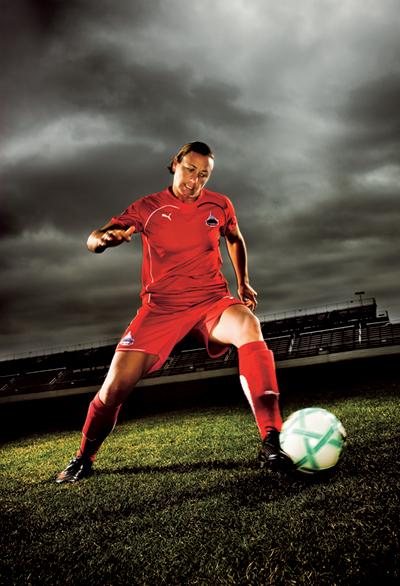 Abby Wambach, the queen of women's soccer, isn't the tiara type.
At practice, she's the muddiest, the loudest, the one who curses at herself and fetches water for her teammates. When she was growing up in suburban Rochester, New York, the youngest in the rough-and-tumble of seven kids, her siblings sometimes hung her on a doorknob by her underwear. Until age 16, she played on boys' teams.
"The boys didn't mind," Wambach says. "I was good."
She teamed with Mia Hamm, the original queen of women's soccer, on the Washington Freedom, part of the first women's pro-soccer league. Wambach, just out of the University of Florida, apprenticed with Hamm, watching as the legend poured herself into the game, her teammates, and the fans. It was a turning point, says Wambach, now 28, a time when she began a love affair with the game.
The league folded in 2003, but a second one opened this spring with Wambach again in Washington, this time as the team's marquee name. Hamm, now retired, had magical foot skills and the elegance of a deer; Wambach, at five-foot-ten, is a power player who leaves bodies in her wake. Heading to goal, she's like a leopard running down her prey.
Says Wambach: "You have to give yourself to the game."
This article first appeared in the May 2009 issue of The Washingtonian. For more articles from that issue, click here.