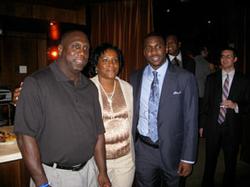 What: University of North Carolina alum and Clinton, Maryland, native Ty Lawson's invite-only NBA-draft party.
Where: The Park at Fourteenth's exclusive fourth-floor lounge.
When: Thursday, June 25.
Who: In addition to Lawson and his family and friends, the 18th pick's guests included NBA superstar Steve Francis and former University of Maryland standout James Gist. Francis made a late entrance and offered Lawson a fashion tip: "You need to buy yourself some Gucci."
Agent Jeff Fried, who represents both Lawson and Francis, said Francis flew in from Houston especially for the occasion: "He's going home tomorrow morning. He flew in from Houston to say hello and to support Ty. First thing tomorrow he's gone."
Others in attendance included DC Council member Kwame Brown and Eagle Bank CEO Barry Watkins. Local boxer and Fried client Tony Thompson also stopped by for a short visit.Attire: Anything other than street clothes seemed to fly at the celebration. Some dressed casually smart, while Lawson and his team donned suits.
Scene: Security stopped anyone not invited from going above the club's packed bottom two floors, but Lawson's bash was decidedly less hectic. Family and friends, including the star's parents, George and Jacqueline, made up most of the crowd. Family members took pictures and videotaped while Lawson patiently watched the draft's first hour sitting on a couch surrounded by friends. A documentary crew, following Lawson through the entire draft process, was on hand, as were reporters from Comcast Sports Net and Channel 4. Lawson had considered attending the draft at Madison Square Garden in New York but made a late decision to stay close to home. "Everyone talks about the Park, and this is a really prime location," he said. "I was thinking about going to New York, but a lot of my family couldn't make it up there."
The funniest moment came while the Indiana Pacers were on the clock. Lawson was expected to be taken between the 10th and 20th picks of the drafts, and each time NBA commissioner David Stern came to the podium at Madison Square Garden to announce the pick, Lawson's party went dead silent in anticipation. With about one minute left on its draft clock, ESPN analysts predicted the Pacers would select Lawson, and his agent took a call. Someone in the crowd yelled, "This is it!" Friends cheered. Stern finally appeared at the podium and announced that for the 13th pick the Pacers had selected Tyler Hansbrough. Lawson jumped halfway out of his seat, and photographers snapped pictures before realizing the Pacers had selected Lawson's teammate at North Carolina, the 6-foot-9 Hansbrough. After a split second of disappointment, Lawson cheered on his former teammate.
More than an hour and a half after the draft started, Lawson was finally selected by the Minnesota Timberwolves as the 18th pick. It came as a complete surprise because Minnesota had already selected two point guards in the first round. "I wasn't even looking at the TV," Lawson said. "I didn't expect that at all." Once he was chosen, the crowd mobbed Lawson, as his mother and father offered him congratulations and TV crews tried to get his reaction. But his tenure in Minnesota lasted all of about 30 seconds, as Fried announced he was traded to the Denver Nuggets. "I'm just going to try to enjoy the rest of my night now that I know where I'm going," Lawson said.
Let's party: After he was selected, the flat-panel screens broadcasting the draft took a back seat to music and dancing. A deejay spun club hits and Michael Jackson tracks in honor of the late King of Pop. Lawson and his representatives were mobbed by the media for about an hour after his selection before he rejoined the party and signed autographs for his friends.
Food and drink: With two open bars, the drinks were flowing all night. Food included a buffet of fresh fish filets, steak, potatoes, and seasoned asparagus.
Ratings:
Boldface names: 3 out of 5
Swankiness: 3 out of 5
Food and drink: 3 out of 5
Exclusivity: 3 out of 5
Total: 12 out of 20