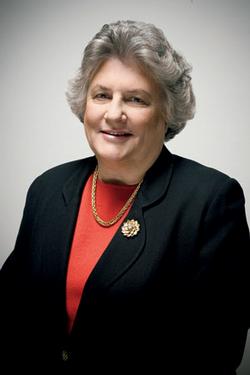 Bobbie Kilberg was seated across from President George H.W. Bush in a 1991 White House meeting when she was handed a message: "Lee Iacocca is on the phone for you, and you must take the call." Kilberg, a deputy assistant to the President, handed the note to Bush, who nodded for her to take the call. It was from her 16-year-old son, Jonathan, who had tricked the White House operators. He wanted to know if he could go out that night. Kilberg said no.
For four days, the President asked her what Iacocca had wanted. When "You don't want to know" no longer worked, she told him the truth. The President laughed.
After graduating from Vassar and Yale Law School—and getting a master's in political science from Columbia—Bobbie Greene met Bill Kilberg when they were White House Fellows. They got engaged and were the first White House fellows to wed each other. After 38 years of marriage, they have five children and four grandchildren. All four grandchildren live on their street.
Bobbie Kilberg worked for Presidents Nixon, Ford, and Bush. Between White House posts, she had been an attorney in private practice and worked in academia and think tanks. She was backstage manager for the past six Republican National Conventions and platform director for three presidential inauguration ceremonies. She and her husband were among the national finance cochairs for John McCain's presidential campaign.
She has served for the past ten years as head of the Northern Virginia Technology Council. It's the nation's largest regional technology organization, with 1,100 member companies employing 200,000 people.
Bobbie Kilberg says the council's work is "connecting the dots." Through networking, organizing events, advocacy, and philanthropy, she works to brand the region as a global technology center.
She also has been a dynamo in the community, serving on the boards of George Washington University, WETA-TV, the Wolf Trap Foundation, the Equal Footing Foundation, Grandma Rita's Children, the US Naval Academy Board of Visitors, and the advisory board of George Mason University's Volgenau School of IT and Engineering. She is perhaps most passionate about the Potomac School, which all of her children attended and her grandchildren now attend. She served on its board for six years and has worked to increase support for the school.
Kilberg's close family is testament to her values and determination. Her son-in-law Yuctan Hodge says she "breaks the laws of time and space with all she can accomplish in a day." Daughter Gillian Hodge says the best compliment she ever got was from a friend who "told me that I am a lot like my mom—determined to do right and with the will to make everything work out." Daughter Cameron Kilberg says her mom "taught me not to settle for something just because it is easy."
Bobbie Kilberg never has, and the Washington region is richer for it.