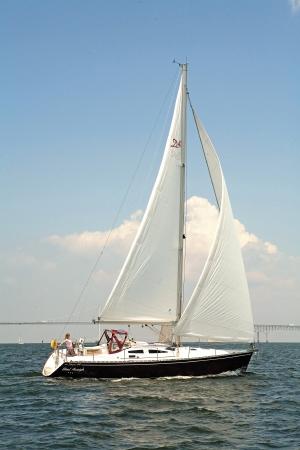 When Mother Nature paints the foliage a riot of crimson, gold, and pumpkin, there may be no better perch than the cockpit of a sailboat. The views are unobstructed, and fall's dryer weather and steady breezes create ideal sailing conditions.
While many enjoy playing captain, the role doesn't float everyone's boat. That's where Annapolis Bay Charters comes to the rescue. ABC, with 32 well-maintained boats in its fleet, is the area's oldest, largest charter company. It helps clients select a boat by size, amenities, and price; provides a US Coast Guard–approved captain if necessary; takes care of "provisioning" (that's groceries and grog to landlubbers); suggests an itinerary; and advises what to pack and what to leave ashore. Just show up with a duffel and a book—and sail away.
You can listen to the lapping water and view migrating waterfowl as your pulse slows. Want more stimulation? The captain is happy to demonstrate how to trim sails, steer a course, and read the clouds.
Our tip: Tie up and crack crabs at the Crab Claw in St. Michaels or the Waterman's Crab House in Rock Hall.
Travel time: 45 minutes to an hour.
What it costs: For two days and one night, rates start at $1,400 for a 33-foot Hunter that sleeps two couples and the skipper; a 45-foot deluxe boat that sleeps six plus the captain is $3,000. Prices include tax and insurance but not food, alcohol, or linens.
More information: annapolisbaycharters.net.
—Beth Rubin
Black Horse Inn: Saddle Up and Ride
Black Horse Inn is a historic plantation—with pillars, porches, and paddocks—less than an hour from DC in Warrenton, Virginia. For horse lovers, it doesn't get any better than this: Horses can be stabled in their own luxurious digs for $55 a night. Don't have a horse? Owner Lynn Pirozzoli-Mauro can arrange lessons as well as rides in the Shenandoah Mountains.
You don't need to mount a steed to have a good time. Linger on fieldstone terraces and watch horses graze in the pasture. A video library is stocked with classics as well as a bevy of games, including Horse-Opoly. Don't miss the Hunt Country afternoon "tea"—heavier on port, sherry, and wine than on Earl Grey.
Rooms are large, with traditional furnishings such as four-poster beds and Oriental rugs; some have fireplaces. For guests who pry themselves away from the property, nearby Germantown Lake offers kayaking, canoeing, and fishing. More than 20 wineries are close to the inn. History buffs can visit Manassas National Battlefield—the inn was named after the Black Horse Cavalry, which led a successful charge against Union forces at the First Battle of Manassas.
Our tip: Ditch your car and walk across the street to Rails-to-Trails, a former railroad line that's been converted to a scenic path. Follow it about a mile to the historic old town of Warrenton, with its galleries, gift shops, and antiques stores. For a romantic dinner, try Claire's in the restored railroad depot; for casual fare and a great wine list, head to Iron Bridge Wine Company.
Travel time from DC: 45 minutes.
What it costs: Rates are highest May through October, when they start at $225 a night, including a full country breakfast.
More information: blackhorseinn.com.
—Andrea C .Poe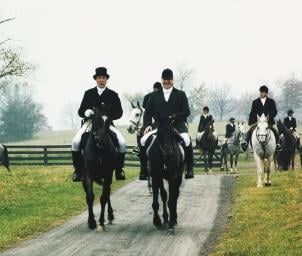 Inn BoonsBoro: Novel Newcomer
After penning more than 165 romance novels, best-selling author Nora Roberts knows a thing or two about love. This year she turned her fancy to a 1790s building in the hills of Western Maryland and created a romantic retreat: the Inn BoonsBoro.
Except for the penthouse, the decor in each of the eight rooms is inspired by a literary pair. Guests can get lost with Elizabeth and Darcy from Pride and Prejudice, or maybe Roberts's characters Eve and Roarke. My husband and I, in the Jane and Rochester room, were drawn into the 1944 film Jane Eyre, the classic the room was named for; the DVD and novel were right there.
All bathrooms but one have a freestanding tub, heated floor, and high-tech toilet. Open porches run the length of the building. An inviting library is on the second floor.
The region is well suited for bicycling, hiking, and picnicking. The Appalachian Trail runs through Washington Monument State Park. Nearby Antietam National Battlefield, a sobering but beautiful stop, honors Civil War casualties.
We didn't have to go far to eat well. The inn serves a hot breakfast, there's pizza across the street at Vesta, and on the next corner Palettie serves pasta, seafood, and steak.
Antiquing is eight miles away at Funkstown's high- and low-end shops. Three miles farther is Hagerstown; the Washington County Museum of Fine Arts is the centerpiece of its lovely City Park. For picnic provisions and local crafts, catch the more-than-220-year-old farmers market, Saturdays 5 am to 1 pm.
Our tip: Stroll tiny Boonsboro, which includes Crawford Confectionery & Gift's classic lunch counter and Turn the Page Bookstore, where Roberts does regular signings; November 7 is the next one.
Travel time from Washington: Just over an hour.
What it costs: $220 to $300 a room.
More information: innboonsboro.com.
—Ann Cochran