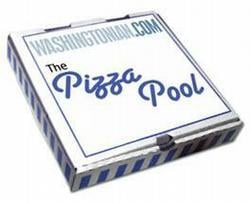 UPDATE: This poll is now closed. Pete's New Haven Style Apizza won! You can check out the latest face-offs and vote here.
Well, folks, we've made it even further on figuring out the best pizza in Washington! We're on to the Edible Eight of our Washingtonian.com Pizza Pool. The eight remaining pizza spots will be posted over the course of the next few days. We'll still be posting two contests a day, and each will remain open for 24 hours. For a refresher on how the brackets will work, head here.
Pete's New Haven Apizza: Co-owner Alicia Mehr hails from New Haven, a pizza Mecca. Although the coal-fired slabs at New Haven landmarks such as Sally's and Pepe's don't quite jump to mind here—they're thinner, smokier, more brittle—one pie in particular does its forebears justice. The New Haven, an homage to Pepe's most famous pizza, is a sauceless 18-inch crust laden with chopped clams and pecorino cheese. It's salty, briny, garlicky—and it stays beautifully crisp.
Posto: Chef Massimo Fabbri still uses the dough recipe he learned in culinary school 16 years ago, and for good reason: The wood-fired pizzas at this Logan Circle trattoria have a crisp underside and a soft, bubbled rim.
Did you know? If you click the links of each of those restaurants' names, you can leave your own review of their pizza at that page!

This poll will stay open until noon on Tuesday.


*To help keep this contest fair, we've elected to use an IP address-based poll. This means that if you are voting from an office or network setting, not everybody will be able to vote. We apologize for the inconvenience, but we hope you'll encourage coworkers to vote from their home computers.