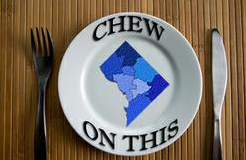 Last week, we got word that New York-based chef Scott Conant had signed a deal for the former Olives space in downtown DC. He's just the latest in a line of celebrity chefs who've picked Washington to open an outpost of their dining empires—we now have restaurants from Jean-Georges Vongerichten, Eric Ripert, Alain Ducasse, Michael Mina, Wolfgang Puck, and more. Before these guys came to town, though, we had a pretty great batch of homegrown talent here—and still do.
We want to know what you think of all the celebrity-chef-owned restaurants that are cropping up. Are you flattered that Washington is suddenly a hot spot? Do you think the newest chefs are overshadowing the ones who actually live here? Do you want more celebrity chefs to come, or do you just wish they'd all pack their knives and go?
Let us know in the comments!
More>> Best Bites Blog | Food & Dining | Restaurant Finder