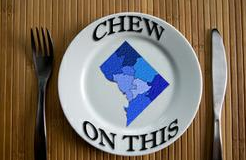 Last week, a reader wrote in to food and wine editor Todd Kliman's chat to get his feedback about a bad experience waiting at a restaurant. The reader had a 9 PM reservation and wasn't seated for 50 minutes. "I'm wondering what your guidelines are on what's considered a reasonable wait for a table when you have a reservation and when you should just cut your losses and leave?" asked the frustrated customer.
"I think 2 minutes or fewer is a reasonable wait if you have a reservation. I'm not being facetious," Kliman said. "Actually, I'm being charitable and forgiving. I think no-wait-at-all is what is reasonable if you have a reservation. Or two minutes and the restaurant buys you a drink. Fifty minutes? Fifty minutes and the meal ought to be comped."
In Kliman's chat today, lots of people wrote in with opinions on how the restaurant should have handled the situation. What do you think? How long is an acceptable wait for a table when you have a reservation? If you have to wait, should the restaurant do anything to make up for it?