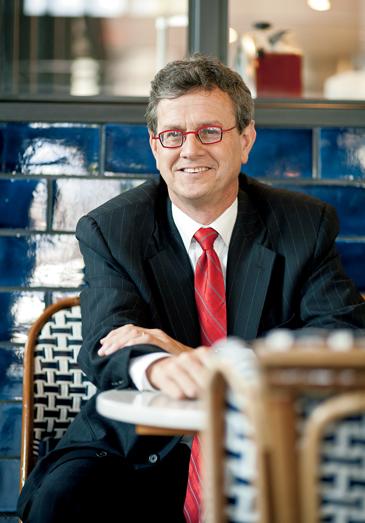 No one knows what to make of Howard Gutman. When President Obama nominated him to be ambassador to Belgium this spring, the Belgian press couldn't choose which of Gutman's three hats to lead with: Was he a high-powered DC attorney? A Hollywood bit actor and would-be TV producer? Or a close Obama confidant?
Sure, he's a longtime partner at Williams & Connolly, one of the city's top law firms. But he also has a Screen Actors Guild card and a role in the upcoming movie Fame, and he was a top Obama fundraiser as well as one of the "Washington insiders" the GOP has attacked.
Gutman graduated from Harvard Law, clerked on the Fifth Circuit and for Justice Potter Stewart, and did a stint with FBI director William Webster before settling at Williams & Connolly in 1982. He spent two decades building a practice in corporate litigation and labor law as well as representing people such as Steven Rales and Nigel Morris. He also represented former Bolivian president Gonzalo Sánchez de Lozada against charges of human-rights abuses.
Bill Ginivan, chief legal officer for FBR Capital Markets, recalls running into Mark Warner in the late 1990s soon after starting at FBR. Warner's advice: Hire Gutman as your litigator.
"I don't have any litigation at the moment," Ginivan said.
"When you do," Warner replied, "you'll want Howard."
For almost a decade, Gutman has represented FBR. Says Ginivan: "He's a genius."
After Gutman worked on the legal team for former Vice President Al Gore in Bush v. Gore, his behind-the-scenes political ascent came when Warner, his law-school classmate, became governor of Virginia. As Warner's national star rose, Gutman became a key confidant.
The two men spent months crisscrossing the country, laying the groundwork for a presidential campaign that never happened. With the help of Gutman's wife, dentist Michelle Loewinger, the couple's Bethesda home became a gathering place for Warner fundraisers.
At the same time, Gutman was exploring acting—a consulting role on George Clooney's HBO series K Street led to an on-screen role. "After all this coaching about how a Washington lawyer acts," Gutman recalls, "Steve Soderbergh finally said, 'Can't you just do it?' " The role was enough to get Gutman his union card and get him hooked on Hollywood.
As his political fundraising started to lead him more into Hollywood circles, he began to be asked to try out for shows—many of them with a legal bent. When he and Warner passed through Los Angeles on fundraising jaunts, Gutman would beg off for a few hours and audition for Boston Legal or Crossing Jordan. At night, he juggled cases for FBR and other clients.
After Warner dropped out of the presidential race, Gutman cast about for a new horse. He found Hillary Clinton's camp unwelcoming to new faces and was drawn to Obama's charisma. Soon Gutman became one of the campaign's biggest fundraisers, helping raise money during the crucial early months of 2007 when Clinton was expected to outshine all others.
Around the same time, he landed a role as Tim Robbins's lawyer in the 2007 film Noise.Says Gutman: "I have to have roles that I understand real well. I don't have time to learn to act or read Shakespeare." He was also busy crafting a reality-TV show with the makers of Dirty Jobs and American Chopper. Modeled on Cops, it focuses on the State Department's security team in Haiti.
His most recent role gave Gutman, a Bronx native, a chance to feel at home: He plays the Jewish butcher father of one of the characters in Fame, which opens September 25. Two days of filming in Los Angeles—during which he was surprised to spot a young man standing around wearing a sign reading STAND-IN FOR MR. GUTMAN—didn't quite yield a big-law payday: He got $4,597 for his appearance.
When Obama won in November, Gutman, according to sources, was offered a number of staff positions. He decided to take the ambassadorial path and ended up in Brussels, home to NATO and the European Union.
The new role of ambassador comes with a pay cut: Most ambassadors make about $150,000 a year plus certain living expenses; Gutman earned $1.8 million in 2008 at Williams & Connolly, according to his financial-disclosure forms.
Despite the diplomatic post, he's not quite done with Hollywood. While he had to give up his executive-producer roles in the reality show and in the ABC drama series Powers & Price, he does get to take one more turn through Hollywood: the red-carpet walk for Fame.
This article first appeared in the October 2009 issue of The Washingtonian. For more articles from that issue, click here.
More>> Capital Comment Blog | News & Politics | Party Photos