It's been a historic year for women at the Supreme Court. Elena Kagan became the country's first female solicitor general, and Sonia Sotomayor became the third woman to sit on the high court. But one place you won't find more women is among Washington's exclusive bar of Supreme Court advocates.
Latham & Watkins partner Maureen Mahoney, widely considered the queen of the DC appellate bar, is scaling back her practice and partially retiring. Renowned Supreme Court advocate Beth Brinkmann, previously chair of Morrison & Foerster's appellate group, has left to be a deputy assistant attorney general in the Justice Department's Civil Division. Among the cream of the crop of Washington's Supreme Court lawyers, the last woman standing is Patricia Millett.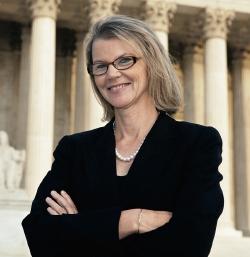 The Akin Gump partner has argued more times before the high court than any other woman in private practice. Millett had her 27th argument on October 6—the second day of the court's new term—in a First Amendment case concerning animal cruelty. By most accounts, the justices are expected to rule in favor of her client, who was convicted of making videos about pit-bull fights.
Millett is hopeful about the future of women Supreme Court advocates. She says more female law students are enrolling in the Supreme Court clinics she helps with, and she expects Kagan's appointment to inspire a new generation of women attorneys. Still, one thing makes Millett crazy: the discussion about what female advocates should wear when they argue before the justices.
There was much hoopla surrounding whether Kagan would don the traditional morning coat worn by her male predecessors—she didn't. Millett says law students also continually ask her what she wears when she's at the Supreme Court—a question her male counterparts rarely get asked.
Her answer? "I wear clothes every single time."
More>> Capital Comment Blog | News & Politics | Party Photos