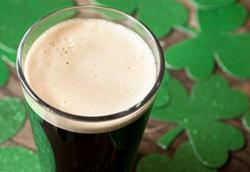 Related Links:
Some of the Best Irish Pubs in Washington
Happy Hour Finder
Best Bars in Washington

Fadó Irish Pub & Restaurant
March 9 through 17
St. Patrick's Day festivities at Fadó are already under way: A whiskey dinner, featuring a five-course meal with drink pairings, takes place Tuesday, March 9, at 7. Tickets are $60 per person. On Wednesday, the Irish pub celebrates its 12th anniversary with a dance party, starting at 9:30; Willem Dicke will provide live music. The annual St. Baldrick's charity event, in which people voluntarily shave their heads to raise money for the St. Baldrick's Foundation, kicks off Friday at 3. Sunday is St. Practice Day, an early-morning viewing of rugby matches followed by the annual St. Patrick's Day parade. Bands will play traditional Irish music throughout the day. On Monday, a St. Paddy's Day edition of the pub's weekly trivia takes place at 8. On Wednesday, there'll be Irish food, pints, live music, and more. For more details, check out the pub's Web site.
Ireland's Four Courts
March 13 through 17
This Arlington pub hosts several St. Patrick's Day events, starting Saturday, March 13. Doors open at 7:30 AM, and live bands play from 8 AM until 2 AM. Outside, the pub's annual four-mile run starts at 9. Sunday, an Irish buffet featuring shepherd's pie and corned beef and cabbage will be available from 10:30 AM to 2:30 PM. Monday, an Irish-themed pub quiz starts at 7:30, and on Tuesday, a traditional Irish lunch will be served from 10 to 2. Music performances will be held all day in the outdoor main stage and heated tents. For a look at the pub's itinerary, click here.
The Irish Inn at Glen Echo
March 14 through 17
On Sunday, March 14, live music includes folk guitarist Jim Turner from 11 to 2 and the Brooks Tegler Jazz Group from 5:30 to 8:30. The restaurant is serving an all-Irish lunch on Monday at 11. On the eve of St. Patrick's Day, the 19th Street Band will perform from 7 to 10, and on Wednesday, there'll be traditional Irish meals all day as well as live music from 3 to close.
Duffy's Irish Restaurant & Pub
March 17
Duffy's opens at noon—there's a $5 cover charge after 3—on St. Patrick's Day, and the first 200 guests get a free T-shirt. House-made corned-beef and roast-turkey sandwiches will be available. A lineup of Irish dancers, singers, pipers, and DJs will entertain customers all day. Also available: $2 green Jell-O shots.
McGinty's Public House
March 12 and 17
The Silver Spring iteration of McGinty's has a pre-St. Patrick's Day outdoor festival starting Friday at 5, with Irish food and drinks. The entertainment includes music from Trad Routes, performances by the Culking School of Irish Dance, and a match-making contest. Then, on St. Patrick's Day, Irish food and drinks will be served starting at 11, and there'll be musical performances throughout the day. For more details, check out McGinty's Web site.

Againn
March 17
The British bistro pub is transforming its raw bar into a Guinness and Kilkenny beer station, with $5 draft specials. The bar will also serve $5 Irish coffees and Irish Old Fashioneds topped with Jameson. Irish fare such as corned beef and cabbage and Guinness-braised lamb shanks will be available. Festivities start at 5.
The Old Brogue Irish Pub
March 17
This Great Falls pub will serve four Irish meals in its Snuggery dining room: at noon ($30), 2:30 ($30), 5 ($40), and 7:30 ($50). The pub opens at 10 AM with live music all day. A $10 cover charge includes a button and a wrist band. No personal checks or cash.
Pat Troy's Ireland's Own
March 17
On St. Patrick's Day, a $10 cover grants you access to the main area (standing room only) of this Alexandria restaurant, where live music will play all day. Breakfast, lunch, and dinner will be served in the restaurant's heated outdoor tent. Breakfast is at 9; lunch at 11, 1 , and 3; and dinner at 5, 7, and 9. Reservations are available for two-hour seatings.
Rumors
March 17
The 11th Annual Shamrocks & Shenanigans party takes place at this downtown DC bar with beat-the-clock specials. Starting at 4, Coors Light beers are only 17 cents and increase by a dollar with each hour through 8. A similar deal is also available for Blue Moon starting at 5. Another drink special: $5 Jameson shots. Entertainment will be provided in the form of a strolling bagpiper, DJ, and contests. Price of admission is $5, but that's subject to change. Purchase your tickets in advance here.
Know of any St. Paddy's Day parties we missed? Let us know in the comments.