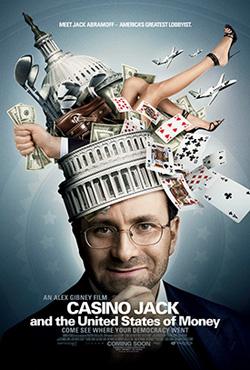 Documentaries with Washington angles were front and center at this year's Sundance Film Festival.
The first sale of the festival—and the audience prize for documentary—went to Waiting for Superman, Davis Guggenheim's look at the nation's public schools. Alex Gibney's Casino Jack and the United States of Money—the story of lobbyist Jack Abramoff's rise and fall—also enjoyed a big debut.
Guggenheim—director of Al Gore's An Inconvenient Truth—is a son of the late Oscar-winning documentarian Charles Guggenheim. Davis grew up here and attended the Potomac and Sidwell Friends schools because his parents felt DC public schools weren't up to snuff.
"That was more than 40 years ago," he says. "That sense of time haunted me because not only are public schools in trouble, but they've been in trouble so long."
In his new film, Guggenheim traces the story of five children as they try to get into a school that will save them, including a local child, Anthony Black, who waits to see if he's going to get into the District's SEED School.
Guggenheim glorifies DC schools chancellor Michelle Rhee. As he sees it, "we sacrifice our children to preserve harmony among adults."
Paramount snapped up Waiting for Superman on the festival's opening day and hopes to release it this fall, although it has to get clearance from the Motion Picture Association to use the word "Superman" because Warner Brothers owns that character.
Gibney's Casino Jack details the almost unbelievable story of Jack Abramoff's rise with fellow conservatives Grover Norquist, Ralph Reed, and Karl Rove as well as his later involvement with Indian casinos, sweatshops in tax-sheltered Saipan, and lots of wheeling and dealing with Congress. Abramoff is serving his final year in prison for defrauding American Indian tribes and corruption of public officials.
In the film, former congressman and Scottish-golf-junketeer Bob Ney speaks candidly about his transgressions, as does his ex-aide and subsequent Abramoff colleague Neil Volz. Onetime Tom DeLay aide Michael Scanlon's role is developed in detail, with an entertaining segment featuring fellow Rehoboth Beach lifeguard David Grosh as head of a Rehoboth "think tank" that laundered money for Abramoff and Scanlon.
In other Sundance news, DC native Rachel Grady and codirector Heidi Ewing showed the documentary 12th & Delaware, about the emotional stakes of the abortion debate.
Grady is the daughter of local private investigator Bonnie Goldstein and stepdaughter of author James Grady (Six Days of the Condor). Her mother and stepfather met in 1980 when Grady was writing a profile about Goldstein for The Washingtonian.
Subscribe to Washingtonian
Follow Washingtonian on Twitter
More>> Capital Comment Blog | News & Politics | Party Photos