Alero
The U Street, Northwest, location this local Mexican chain claims it houses more than 100 types of tequila, and there's an extensive margarita menu—we count 14 versions, all available by the glass, half pitcher, and pitcher. You have your usual suspects, such as the Cadillac ($6.99)—made with Cuervo Plata and Grand Marnier—and the Margarita de la Casa ($6.29), as well as more esoteric concoctions such as the $7.99 Pacific Wave (Margaritaville tequila, peach and melon Schnapps, blue curaçao, and pineapple juice) and the $6.95 Bloody Maria (Jose Cuervo Plata tequila and bloody Mary mix).
Cactus Cantina and Lauriol Plaza
These sister restaurants have made a name for themselves thanks to their bang-for-your-buck margaritas, which come frozen and on the rocks. Full pitchers go for $25.99, or $36.99 if you upgrade to Cuervo Gold. You can also sip strawberry, peach, and mango flavors.
Café Salsa
This Nuevo Latino restaurant in Old Town serves its Café Salsa Margarita—with a secret house-made lemon mix, Jose Cuervo, and Grand Marnier—and the Margarita Tropical, a blend of banana-and-strawberry mix and Jose Cuervo Gold. Both version are available by the glass ($7.95) or pitcher ($34.95). We've got the recipe for the Café Salsa Margarita and a video demo, if you want to recreate the cocktail at home.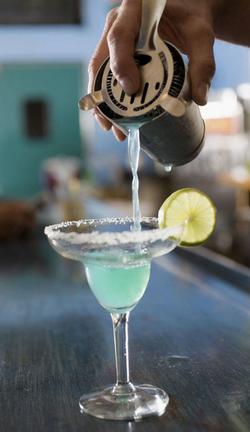 Casa Oaxaca
Seemingly endless varieties of tequila as well as fruit flavors—blackberry, blood orange, hibiscus, lychee, mango, passionfruit—are the main draw at this Adams Morgan Mexican restaurant. Bonus: Normally priced at $9.50, margaritas go down to less than half their price ($4) during Hora Feliz at the bar from 5 to 7 Tuesday through Friday. Margaritas also come served in a carafe, ranging from $30 to $40 depending on the type of tequila.
Ceiba
Its food may be a melange of Latin American cuisines, but Ceiba keeps it simple with its Traditional Margarita($9.95)—house-made sour mix, Jose Cuervo tequila, and Citrónge. For something different, try the Margarita de Casa ($9.95), spruced up with mango, tamarind, and pomegranate.
Firefly
Bartender Alice Gaber spices up the standard margarita with poblano-pepper-infused Partida Blanco tequila and a cilantro-agave purée. Called the Salsa Verde ($12.50), the cocktail is served with a peppered-salt rim.
Guapo's
This chain, which has locations in Tenleytown, Shirlington, Gaithersburg, and Bethesda, offers a good frozen margarita swirl ($7) that won't break the bank—just don't expect the portion of tequila to knock you out.
Masa 14
This 14th Street, Northwest, newcomer has two margaritas on its spring/summer menu: the Hibiscus ($11), made with Antigua Reposado tequila, vanilla-infused hibiscus tea, and fresh lime juice; and beverage manager Ivan Iricanin's Signature ($9) made with El Jimador tequila, lime juice, and agave. Masa 14 will also have a slew of $5 flavored margaritas available for Cinco de Mayo.
Oyamel
The Oyamel margarita—chef/owner José Andrés's favorite—substitutes a "salt air" foam for a salted rim. The drink ($11) is made with fresh lime juice, Citrónge, and Jose Cuervo. For purists, there's the Classic Margarita with Herradura Silver tequila, available by the glass ($9.50) and pitcher ($38). Other options: the Piña y Salvia, with pineapple juice and triple sec; and the Oyamel Pomegranate, both $11.
Poste
With its Lavender Margarita ($11), Poste adds a floral component to the standard recipe. The result? The lavender-infused tequila tones down the sourness of the drink and gives it a mild flavor. The drink isn't listed on the menu, but bartenders will make it upon request. The infusions menu includes a cocktail called Daisy on Fire ($11), a spin on a 'rita made with chili-infused tequila and peach nectar. Also, the garden drink menu includes the Flower Power ($9) made with Jose Cuervo silver, fresh lime juice, hibiscus tea, triple sec, and St. Germain Elderflower liqueur.
Rosa Mexicano
Rosa Mexicano has five house-made margaritas: its signature frozen pomegranate version ($8.75), made with tequila blanco and lime juice; La Tradicional ($8.75), which has agave nectar and lime juice; La Unica ($12) is upgraded with 1800 Reposado agave tequila and Grand Marnier; and La Suprema ($16), the most expensive, has Patrón Reposado agave tequila, Citrónge, and Grand Marnier.
Teaism
For interesting margaritas head to . . . a tea shop? The cavernous Penn Quarter Teaism restaurant offers mango and ginger margaritas to go with its selection of beer and sake. Though true margarita fans might be better off heading to actual bars, the margaritas at Teaism will add only $5 to your bill.
Did we leave out your favorite spot to grab a margarita? Let us know in the comments, and we'll update the list with your suggestions!
Subscribe to Washingtonian
Follow Washingtonian on Twitter
More>> After Hours Blog | Arts & Events | Happy Hour Finder | Calendar of Events