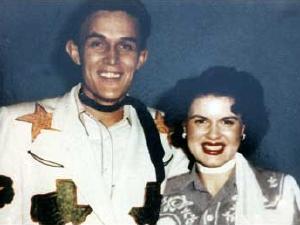 Singer Jimmy Dean, who died over the weekend at his home outside Richmond, played a major role in Washington's country-music renaissance of the 1950s. A Texas native, Dean was stationed at nearby Bolling Air Force Base when he started playing around town with his band, the Texas Wildcats. He was a strapping cowboy, tall and high-cheekboned, and despite the sometimes dull nature of his songbook, he wore a near-constant smile that carved deep canyons around his mouth.
Onstage, Dean was more crooner than howler—Dean Martin of the backwoods, Hank Williams goes to Hollywood. In his finest recordings ("Big Bad John," "PT 109"), he told character-driven stories of survival, talking over the music the way Charlie Daniels—who remains, in my estimation, Dean's clearest musical acolyte—does in the verses of "The Devil Went Down to Georgia."
Teaming up with local producer Connie B. Gay, Dean went on to host Washington's answer to Nashville's Grand Ole Opry, a radio and TV program called Town and Country, which featured local talent such as Patsy Cline and Roy Clark. The popularity of the show and Washington's crop of rising stars led some to wonder whether country music might become an industry in Washington, but those hopes were gradually dashed as producers such as Owen Bradley lured artists looking for heartland alternatives to Los Angeles and New York to record on the cheap in Nashville.
Dean would land several radio hits and attain to a semi-successful run in TV and film, but he never quite fit into the Music City establishment, unlike Cline—whose swooning voice came to embody "the Nashville sound," a polished brand of city-inspired country that helped ratchet the genre from roadhouse stages into the mainstream—and Clark, who was a regular on the variety show Hee Haw.
Because of the brevity of his stardom and the hitches in his output, Dean's induction into the Country Music Hall of Fame this year was questionable, akin to the Library of America giving H.P. Lovecraft his own volume. But Dean's influence on Washington's music scene was substantial and deserves, along with our local music history in general, deeper appraisal and wider recognition.
Subscribe to Washingtonian
Follow Washingtonian on Twitter
More>> Capital Comment Blog | News & Politics | Party Photos