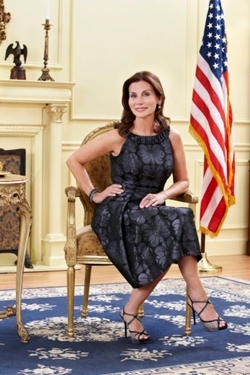 In the first episode of the Real Housewives of Washington, DC that will air tomorrow night at 9 PM on Bravo, Lynda Erkiletian wields a tart tongue and a keen social sensibility. Washingtonian.com caught up with Erkiletian, who runs T.H.E. Artist Agency, to discuss Washington style, how Washington treats working women, doing a reality show with her best friend, and why Andy Cohen will never talk her into taping a single—though she's got the skills to do it. This interview has been edited for length and clarity.
You and Mary have been friends for a long time, what was it like doing the show with her?
Well, it was absolutely fabulous. I mean, that's one of the reasons I signed up for the show, is I felt like Mary was really into it, and she was like, we're going to have a great time, and I thought, she's absolutely right. And we have had a wonderful time.
You're expanding your social circle and you're doing it on camera. Can you talk a little bit about what that experience was like?
I felt like certainly meeting Cat [Ommanney], who was from England, I certainly spent enough time in England, I felt very comfortable with her sense of humor and who she is, and just absolutely loved her. Stacie [Turner] is someone I very much enjoyed getting to know because I personally am a real estate junkie, I love real estate, so we had something in common. I felt like doing a show with five women is always going to be expanding my experiences in Washington, period…. In the end we embraced each other's charities, we embraced each other's causes, and we respected each other. The challenge of being mothers, and working women. There was really a lot of mutual respect between us.
Did you feel that there were some ways that you helped Cat get to know the city? In the first episode she talks about how Washington is something of a social adjustment.
My advice to her, as a new person, because when I came to Washington over 33 years ago, I felt that it was a very difficult city to meet new people because it is a very closed, small city. I saw Washington, DC as an incredible opportunity when I arrived. I thought this is an untapped city in my industry. There's so much focus on politics, there's so much focus on what's going on in the political arena, but when you look around, Washington DC is one of the most beautiful backdrops in the world for any type of business. I just really focused on my career. And I said to Cat, it is a difficult city in that there's niches of people and you kind of have to find your niche. My niche was much more of the creative side, the beauty side, the fashion side, the style side. And I said just follow your heart, what you love, and you'll meet the right people, and you'll know who's your friend, and you'll know how to prevent those who just have an agenda. 33 years later, I think I'm kind of an experienced Washingtonian at this point. And you know who your friends are.
One of the things that I'm really excited about for the show, is I think you in particular do provide a look at another Washington. We have a very fashionable first lady. Washington has a kind of dowdy reputation. Do you think that's fair?
Washington, for some reason, people like to think of Washington but nothing as a political city. They don't think of us as a city that has any sense of fashion whatsoever. I disagree and I've always disagreed with that. I think fashion is a personal choice and it is about style. And I'm a mother of four, I have a wardrobe that spans from what used to be a soccer mom to going to Scotland to hunt. People play tennis. You have wardrobes that are just made up of multiple things….My lifestyle, and so many women in Washington, have so many different roles that they play, that it just depends on where you happen to see that person. Are they at a black-tie event, or are they at the grocery store? I think Washingotn, DC has a lot of culture. I think because we have people who are living in our city from all over the world, it represents the culture and the art of the entire world. I find Washington's fashion to be beautiful, and certainly diverse.
I think you raise a great point about Washington women, and Washington women wearing a lot of hats and having a lot of roles to juggle. Does that come out in the show?
I'm a huge fan of Washington, DC. That's my home. I made it my home by choice. I think it's the most beautiful, powerful city in the world. However, I think in Washington a lot more is expected of women who choose to be mothers and work. I think in some ways Washington is like a small-town city. So the difficulty lies within what people think. I personally had to make a choice a long time ago not to be concerned about what people thought, but to be true to myself, and to be true to my family. And I loved and had an extreme passion for my work, and my children understood that and they supported that. Years later, when they got older they shared with me many things, like 'Gee, we wish you could have been at every soccer game,' this and that. But in the end, they were very proud that I made the hcoice to maintain and continue working in a career that I loved, even though I had a choice. I think I was in a very blessed place where I had a choice to work or not work. In Washington, it's frowned upon if it's something you don't really need to do or choose to do. But in my heart, I know I was true to myself and true to my family, and we're happier for it.
You didn't mention the Salahis. What was the experience of having them on the show? Did you interact a lot, a little?
I really didn't have a lot of time to spend with them, because I am very busy. I work East Coast, West Coast, having my four children, I also sold my apartment and moved during the show. So I was very, very busy.
One thing I thought was interesting about the first episode and the casting in general, is Washington has a long-term reputation as a very segregated city. In getting to know Stacie, did that open up any social circles you hadn't spent time in before? Was there a conversation about race and the city's history at all?
My first six months that I arrived in Washington, DC., I auditioned and started singing backup for Candi Staton, who is an R&B gospel singer. I was raised in the South, but I was raised by a family that was basically color-blind….[I came] to Washington and went on the road with Candi Staton, singing backup with predominantly all-black bands, Teddy Pendergrass…There were three white backup singers and the rest of the band was entirely black. It was interesting for me to see from that point of view to see what it's like to have someone treat you differently. If I didn't already feel comfortable within my own skin, I certainly felt more sympathetic to what it must be like to be born into life where people judge you based on what you look like or the class that you're born in.
Do you still sing?
I do not. I gave up singing. Andy Cohen's just going to have to wait for another Housewife to record a song. My family, they're musicians, my son has a band, it's in their blood. One thing I can tell you from being on the road as a singer. I was out there 28 days out of the month. I knew someday I would want to be married and have children, I grew up very old-fashioned in a Southen world, and I thought this has been fun, but it's not for me. I came back to Washington and decided to really focus on what seemed like a reasonable career choice.
Subscribe to Washingtonian
Follow Washingtonian on Twitter
More>> Capital Comment Blog | News & Politics | Party Photos