It's a timeless pursuit: We want what nobody else has. That seems particularly true when it comes to home furnishings; we want our personal surroundings to represent who we are, to express our individuality.
Achieving that goal isn't always easy. "The bottom line in furniture is that there is an overabundance of it," says Janice Kanter, who with her father, Theodore Kanter, runs Theodores furniture store in the District. With so many styles and places to shop, people can get confused. It's like having a choice of 40 kinds of toothpaste in the store, she says: "Furniture has become the same thing."
That's why people often gravitate toward something they haven't already seen in ten different stores or catalogs. Shoppers have become more discerning. "They want to know how a piece was made and where it was made, so they can pass the story on to their peers," says Kaleo Kala, a furniture maker in Fredericksburg.
Uniqueness especially matters when every dollar counts. "People are selective about how they spend their money," says Sean Amini, manager of DC's Anora Home. "Not only do they have to have good quality and good workmanship, but they have to have a unique design or purpose.
"Our typical sofas? No one even goes near them. If they're going to spend money, they want to spend money on things that are a little bit different, that stand out for them."
The desire to be different exists at every price. "I try to encourage customers to have some sort of unique item in each room," says Kelly Tyree, owner of Madison & Mabel in Frederick, whose inventory includes found and salvaged goods.
The challenge is knowing where to look. These are our favorite spots—from regional chains to independent retailers to woodworkers across the region who focus on one-of-a-kind pieces, whether antique or modern. While some national retailers do fine customized furniture, such as Thos. Moser, we've focused on locally owned businesses offering products that aren't being replicated anywhere else in the country. Many also take custom orders for furniture, art, window treatments, rugs, upholstery, even bedding.
>> Next: Furniture Stores with Modern Flair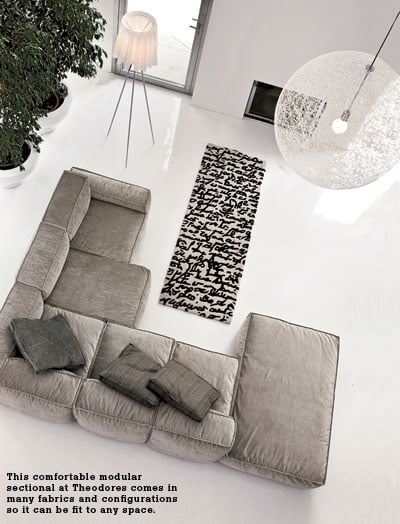 MODERN FLAIR

Anora Home. 5252 Wisconsin Ave., NW; 202-363-3033. Double-duty pieces are popular at this modern-furnishings store, from a dining table with built-in extensions to sectional sofas with built-in end tables. Also notable are the store's distinctive sliding doors, which make grand entrances out of doorways.
Homebody. 715 Eighth St., SE; 202-544-8445. This contemporary shop on Capitol Hill is a gallery of sorts for local craftspeople and designers to sell furniture, lighting, art, and tabletop accessories. The owners hold an event each month to exhibit the work of a local artist.
Modernicus. 8101 Richmond Hwy., Alexandria; 703-887-0895. What started in 2006 as a "curated collection" of midcentury furniture now includes new upholstery and refinishing. The store also partners with local cabinetmakers and metalworkers to build what customers can't find in the existing collection.
Sixteen Fifty Nine. 1659 Wisconsin Ave., NW; 202-333-1480. Owner Mike Johnson says the TV series Mad Men has fueled an interest in sleek '60s furnishings. He's got all the pieces from that era—many in materials such as rosewood and black walnut that aren't used anymore.
Theodores. 2233 Wisconsin Ave., NW; 202-333-2300. The store has been a staple in the modern-design community for more than 40 years, yet it doesn't grow dated because Janice Kanter, Theodore's daughter, is always trying to stay ahead of the curve on trends, buying one-of-a-kind items and working with small factories that can customize lines.
Vastu. 1829 14th St., NW; 202-234-8344. You can get the store's contemporary sofas in any length and choose wood or metal legs on the frames. The Play collection offers wood-frame cabinetry with lacquered doors and drawers in many colors. Vastu also regularly exhibits work by new artists.
Well Built. 1541 14th St., NW; 202-299-0597. Owner Ann Blackwell features the modern, "green," handmade work of 12 designers and eight lines. Part of her profits go to a foundation she created to promote green-product education for designers and tradespeople.
>> Next: Vintage Finds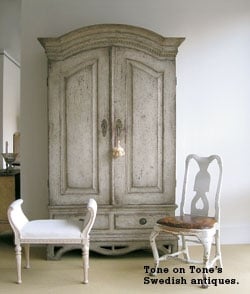 VINTAGE FINDS

Côté Jardin Antiques. 3218 O St., NW; 202-333-3067. The mainly French, mostly garden antiques shop is a product of its owners' passion for both gardening and decorating their homes in DC, Charlottesville, and Provence. Their home in France happens to be near a big antiques district, so they became dealers.
Darrell Dean Antiques. 1524 Wisconsin Ave., NW; 202-333-6330. Darrell Dean doesn't discriminate: His wares range from the 18th century through the 1980s. He's got a hunch that people are going to start embracing their suburban roots—"growing up with a mix of new, borrowed, and Grandma's furniture." Tastefully, of course.
Oliver Dunn, Moss & Co., and Catharine Roberts, 1657 Wisconsin Ave., NW; 202-337-0540. Three stores of accessories and accent furnishings fill one space in this tiny rowhouse: Jackie Oliver Dunn has a great eye for textiles and tabletop; Catharine Roberts designs French-country farm tables; and Moss & Co.'s Moki Heston is known for her charming topiary garden out back.
Random Harvest. Georgetown, 202-333-5569; Alexandria, 703-548-8820; Arlington, 703-527-9690; Bethesda, 301-280-2777. Owner Beth Aberg says her stores are true to their name: a random harvest of vintage, antique, and new finds, which changes all the time. When the stores buy vintage upholstered items, they rebuild them from the inside out, and customers can choose the new fabrics.
Tone on Tone. 7920 Woodmont Ave., Bethesda; 240-497-0800. The store's name reflects the pale hues on its owners' favorite painted Swedish antiques. Loi Thai and Thomas Troeschel also shop across Europe for their signature light-colored pieces, which are intended to blend with the darker furniture in traditional Washington homes.
Verdigris Antiques & Interiors, 1215 King St., Alexandria; 703-505-9970. Owner Ursula Baukol has traveled the world with her husband thanks to his job at the Treasury Department, and customers can see the fruits of those sojourns in constantly changing displays. She also features a great variety of art and vintage lighting, even some vintage clothes.
>> Next: Traditionally Minded
TRADITIONALLY MINDED

And Beige. 1781 Florida Ave., NW; 202-234-1557. For Daren Miller, "beige" is not a dirty word in home design. The name of his store is a reminder that clean, crisp neutrals are a welcome addition in any interior. There are always pops of color, he says, but "don't forget about beige." His newest lines include custom, handmade lamps by Christopher Spitzmiller.
Decorium. 116 King St., Alexandria; 703-739-4662. Walk inside this wisteria-draped shop and whimsy is everywhere, from sapphire-blue Lucite tables to fanciful chandeliers—alongside a traditional sofa strewn with Union Jack pillows. "You have to walk in here and be happy," owner Jeff Albert says.
Flora's Feathered Nest. 12211 River Rd., Potomac; 301-765-0003. Marcia Copenhaver and Peggy Deitrick are "old garden-center girls" at heart, but they gradually expanded into a home-furnishings store with something for every room in the house. The inventory fills a quaint barn, and they still offer plenty of plants and garden furnishings outside.
Kellogg Collection. 3424 Wisconsin Ave., NW, 202-363-6879; 10241 Old Georgetown Rd., Bethesda, 301-897-9102; 1353 Chain Bridge Rd., McLean, 703-506-0850; kelloggcollection.com. Pamela Kellogg Green's stores are a great source for English-country-inspired furnishings. Custom offerings include tables made exclusively for Kellogg by artisans in western Maryland, rag rugs made by an artist in Vermont, and hand-painted vintage mahogany furniture.
Modern 50/Factory 20. 44900 Acacia La., Suite 122, Sterling; 703-577-5596; 703-655-8831. "Mostly it's just buying and selling neat stuff," Dino Paxenos says of his and partner Eric Ginter's huge industrial-vintage inventory. Dino's Modern 50 leans toward midcentury, while Eric's Factory 20 runs more generally across the 20th century; they buy much of their inventory together. Examples: a 1930s ambulance gurney, a 1940s school bell, colorful 1960s oil drums. Customers must call for an appointment—the men will pull items they think will be of interest and arrange them in vignettes for truly customized shopping.
Pear Tree Cottage, 130 Maple Ave. E., Vienna; 703-938-1331. The furnishings and accessories here range from industrial to Hollywood glam to European antique. Owner Frances Brayshaw's passion is repurposing—turning a clam basket or bee skep into a lamp, for example.
Red Barn Mercantile. 113 S. Columbus St., Alexandria; 703-838-0355. This large, airy store feels like a sophisticated farmhouse. Owner Amy Rutherford stocks customizable furniture by Cisco Brothers, a Los Angeles company known for its ultra-green practices. She also sells exotic John Robshaw bedding, Dash & Albert rugs, and many vintage children's items.
Urban Country. 7117 Arlington Rd., Bethesda; 301-654-0500. Rachelle Roth delights in mixing collections from venerable names including Drexel Heritage with new, edgier upstarts such as Turning House. She'll soon be the region's exclusive carrier of celebrity designer Thom Filicia's new line of furniture.
>> Next: Rugs, Bedding, and More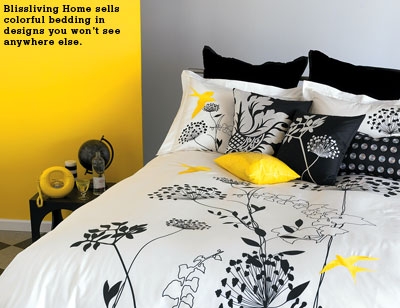 RUGS, BEDDING, AND MORE

Blissliving Home. 866-952-5477. Mei Xu developed the idea for a bedding collection during her travels to promote her other company, Chesapeake Bay Candle, because she found herself bringing her own high-quality sheets to hotels. Each graphic, colorful line from the Rockville-based Internet retailer refers to a domestic or global destination.
C.G. Coe and Son. 4905 Del Ray Ave., Bethesda; 301-986-5800. Many rugs here come in custom sizes and colors, but the real value is in the service, Charles Coe says. He asks plenty of questions to make sure customers are getting the right type of rug for each space, and then a salesperson goes to every installation and follows up several times.
La Musa. 5345 Wisconsin Ave., NW; 202-537-5000. The store, whose name is Italian for "muse," primarily sells custom rugs. Owner AnnMaria Baldine also features art, craft pieces, and furniture of her own design, and each element complements the others.
Mill End Shops. DC, 202-537-8966; Arlington, 703-578-0677; Fairfax, 703-425-4887; Rockville, 301-881-6585; Annapolis, 301-261-8175; millendshop.com. Elliot Breslau's grandfather was on his way from Connecticut to Florida in 1933 when he got off the train at Washington's Union Station and never left. What started as piece goods and remnants has evolved into a full custom operation for upholstery, window treatments, and bedding.
Rockville Interiors. 4 W. Middle La., Rockville, 301-424-1900; 2418 Linden La., Silver Spring, 301-585-0330. The 39-year-old shop produces "anything made of fabric for the home," says Ilan Fulop, who runs it with his father, Tom Fulop. They're best known for their range of traditional and motorized window treatments.
Timothy Paul Carpets & Textiles and Timothy Paul Bedding & Home. 1404 14th St., NW, 202-319-1100; 1529-A 14th St., NW, 202-234-2020. Timothy Worrell and Mia Backman Worrell started with a shop selling made-to-order rugs and textiles. Soon customers began asking to have the textiles made into bedding or upholstery, and they also liked the furniture in the store. Thus, the Bedding & Home shop was born a few doors down.
Valerianne. 111 Church St., NW, Suite 201, Vienna; 703-242-1790. Aimee Wedlake's shop has become a destination for high-end bedding. She first asks customers about their style preferences and how they sleep; then she pulls sheets, pillows, duvets, and blankets from different lines to create a custom look.
>> Fine Furniture Makers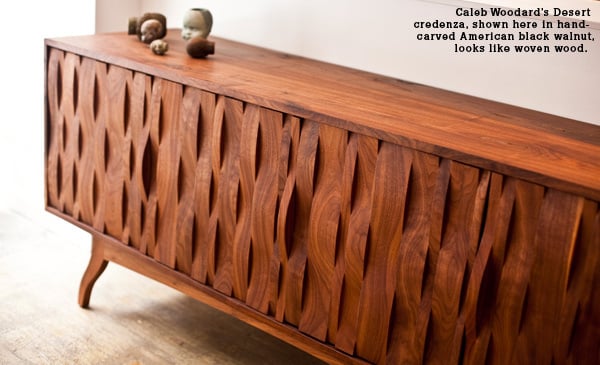 FINE FURNITURE MAKERS

Architectural Built-Ins. 17 Carriage Walk Ct., Gaithersburg; 301-947-9385. Michael Bruner was still in college when his father, Charles, started involving him with his jobs on millwork, built-in cabinetry, and paneled rooms. From rustic reclaimed wood to polished lacquer surfaces, their craftsmanship is revered across the region.
Art Woodstone Studio. 13852 Park Center Rd., Herndon; 571-323-2248. Two brothers from Herndon plus a husband and wife from the country of Georgia own this studio; they say they're primarily artists who also make and repair furniture. Notable projects include library and chess tables for three Starbucks locations in Maryland and one in Ohio.
Barninger & Couch. 202-674-8115. It's an unlikely pair: Justin Couch has a background in industrial design, while Jeffrey Barninger is trained in 18th-century furniture design. They draw on both disciplines to design and build their furniture—when they aren't at their day jobs teaching woodworking to at-risk youth in DC.
Caleb Woodard Furniture Co. 3436 Lee Hwy., Arlington; 202-243-8249. Caleb Woodard, the son of a woodworker, got his first carving knife at age six. Now 30, he's an artisan in his own right and a connoisseur of fine wood varieties. Of note: his Desert cabinetry, which looks like woven wood.
Hardwood Artisans. Alexandria, 703-379-7299; Fairfax, 703-537-0600; Woodbridge, 703-643-1044; Rockville, 301-770-0337. Half of all Hardwood Artisans' orders are custom, whether it's changing the dimensions of an existing piece or making an original design, says Mark Gatterdam, one of the six woodworker/owners. They build everything from furniture to cabinetry and paneled rooms and have recently started designing whole kitchens.
Kala Studios. 540-222-1542; kala-studios.com. Kaleo Kala learned woodworking from his dad, who built all the cabinetry in the renovation of Union Station. Kala makes house calls to his clients to design contemporary chairs, tables, and chests using certified renewable woods, hand-rubbed oils, and nontoxic glue.
Samuel S. Case Cabinetmakers. 3730 Howard Ave., Kensington, 301-933-2770; 120 W. Main St., Purcellville, 540-338-2725. Samuel S. Case comes from generations of antiques dealers, and he's got at least 1,000 books on antiques. That, plus years of watching and doing, is why his 18th-century, Mission, and Shaker furniture designs are so accurate.
>> Next: Road Trip Stops
ROAD-TRIP STOPS
Antique Tables Made Daily. 12018-A Lee Hwy., Sperryville, Va.; 800-413-2459. "It's what your grandfather would have built had he been a woodworker," owner Tom Von Fange says. He's known for farm tables built with antique lumber and reclaimed barnwood, but he designs many other styles in wood varieties native to Virginia, Maryland, West Virginia, and Pennsylvania.
DHS Designs. 6521 Friel Rd., Queenstown, Md.; 410-827-8167. Darryl Savage needs a forklift in his converted 1940s dairy barn to move 15th-century French limestone mantels, enormous garden urns and statuary, and other antique stone pieces. Celebrity designers who seek him out include Bunny Williams, Thomas Pheasant, and Kelly Wearstler.
Dwelling & Design. 13 Goldsborough St., Easton, Md.; 410-822-2211. Any shade of blue is a big seller at Fiona N. Weeks and Don Wooters's store on the Eastern Shore. Maybe it's the coastal influence or the fact that the furniture and accessories fill many second homes, because the collection is light, breezy, and full of color.
Madison & Mabel. 4007-A Buckeystown Pike, Frederick; 301-874-1882. Kelly Tyree is not above Dumpster diving to find the items for her monthly tag sales. She also haunts flea markets, estate sales, and Craigslist. Her current loves include a vintage drafting table, old blueprints, and an industrial-workbench turned desk.
Matthews House and Garden. 9160 John S. Mosby Hwy., Upperville, Va.; 540-592-7147. Wanda Crossley bought a 175-year-old church to sell furniture and accessories in its light-filled interior and expansive exterior. Crossley's partner, Kevin Chadwick, paints custom oils and makes sculptures; a custom fabric line is on the way.
Subscribe to Washingtonian
Follow Washingtonian on Twitter
More>> Open House Blog | Homes | Real Estate