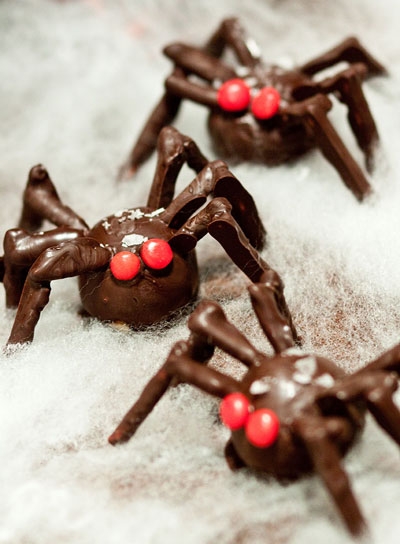 Yes, you could go the Snickers or Almond Joy route, but if you're looking to wow the neighborhood on Halloween night, you're going to have to get creative. The answer? Susan Wallace's chocolate/peanut-butter "spiders." Check out the recipe below.
Chocolate/Peanut-Butter Spiders
Makes about 35 spiders
8 tablespoons butter, softened
½ cup sweetened condensed milk
1½ cups creamy peanut butter
1 teaspoon vanilla extract
½ teaspoon salt
2 cups confectioners sugar
16-ounce bag salted pretzel sticks
3 pounds bittersweet chocolate
2 tablespoons sea salt
1 jar cinnamon candies (Red Hots or something similar)
In a mixing bowl, combine the butter, condensed milk, peanut butter, vanilla, and salt. Stir in confectioners sugar. Mix until the dough forms a ball. Using your hands, shape the dough into 1½-inch balls. Place on parchment paper and set aside.
Break each pretzel stick in 2 pieces, one being about 1½ inches, the other being about ½ inch.
Over a double boiler set over simmering water, melt the chocolate. Using a fork, dip each part of the pretzel stick into the melted chocolate. Place the 2 dipped sticks together (this will form a leg) on parchment paper. You will need 6 legs per spider. Chill until set.
Using a fork, dip each peanut-butter ball into the melted chocolate. Place on parchment paper. Using the shorter part of the leg, poke each one into the spider (6 per spider). Place 2 cinnamon candies on for eyes. Sprinkle the tops of the spiders with sea salt. Chill until set. Serve at room temperature.