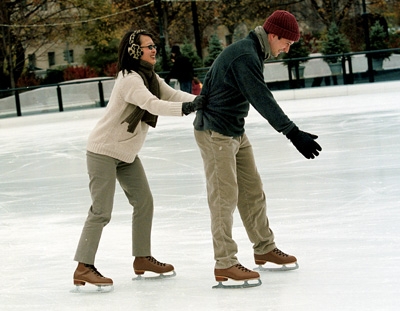 Sharpen your skate blades and tighten your laces: the National Gallery of Art announced today that the Sculpture Garden Ice Rink will open for the season, weather permitting, on November 13. And for the first two days of skating, buying ice time or renting skates or a locker will get you free hot chocolate. Two hours of ice time run $7 for adults and $6 for those 12 and younger, 50 or older, or students with valid identification. Skate rentals are $3, and lockers cost $.50. And if you're a real ice devotee, you can lock up a season pass for $195.
But if you're new to skating, the rink will also offer classes in conjunction with the U.S. Figure Skating Association this year. Sessions include parent-child classes, basic adult classes, and ice dance and hockey classes. Class registration takes place on November 11, December 19, and February 3 from 5 to 8 PM at the rink.
And the Sculpture Garden isn't the only place to take the ice this winter.
The Pavilion at Reston Town Center is open for skating from 11 to 7 Sunday through Tuesday, from 11 to 10 Wednesday and Thursday, and from 11 to 11 Friday and Saturday. Skate rentals are $4, and admission is $7 for children under 12 and senior citizens and $9 for adults. A season pass to the rink goes for $175 for an individual and $375 for a family of four. If that's a little more skating that you planned on, $65 gets you 10 admissions.
In Prince George's County, the Herbert Wells Ice Rink (5211 College Branch Pkwy, College Park; 301-277-3717) has been open since October. The rink is open for its Super Saver sessions on Monday and Wednesday from noon to 2, and on Friday from 3:15 to 5:15, with admission and skate rentals just $4. Listings for a full range of activities ranging from DJ SK8 Night to Broomball is available here.
Subscribe to Washingtonian
Follow Washingtonian on Twitter
More>> After Hours Blog | Arts & Events | Happy Hour Finder | Calendar of Events