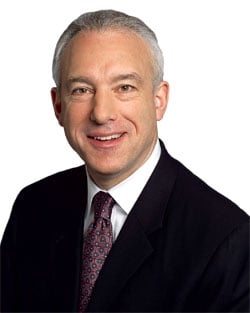 The lawyers and staff of WilmerHale—typically one of Washington's two highest-earning law firms—were among the top contributors to Barack Obama's 2008 presidential campaign, giving more than half a million dollars to the Democratic presidential candidate. They also donated their time as campaign advisers and volunteers.
So it's no surprise that, once Obama was in the White House, he recruited heavily from the firm. To date, 48 lawyers from WilmerHale's Washington office have joined the administration, including several prominent partners: David Ogden became deputy attorney general at the Justice Department, though he has since rejoined the firm. Former partner Meredith Cross is now director of the Division of Corporation Finance at the Securities and Exchange Commission. David Cohen is an assistant secretary of the Treasury Department. Stephen Preston is general counsel of the CIA.
Though firms consider it an honor to send their lawyers into prominent government positions—the future payoffs can be large—current billable hours do drop when top lawyers leave. Thus WilmerHale's support for Obama is partially to blame for the firm's lackluster financial performance in 2009.
In the National Law Journal's annual ranking of the highest-grossing Washington law offices, WilmerHale lost its position as one of the two highest earners for the first time since the 2004 merger between Wilmer, Cutler & Pickering and Hale and Dorr created the powerhouse.
WilmerHale and Hogan Lovells (previously Hogan & Hartson) are in competition for the number-one spot year after year. But in 2009, that changed. Hogan was the top-grossing firm in Washington, posting $417.5 million in revenue. Arnold & Porter and Covington & Burling took second and third place, with $352.3 million and $350.7 million. WilmerHale fell to fourth, with revenue in Washington of $336 million—an 8-percent drop from 2008.
The decline, says co–managing partner William Perlstein, is "just part of having a practice that intersects so much with the government."
When an administration ends, he says, WilmerHale is the beneficiary of top government lawyers looking for private-sector jobs, such as partners Seth Waxman and Reginald Brown, who served, respectively, as solicitor general in the Bill Clinton administration and in the White House Counsel's office for George W. Bush.
Perlstein says the economic recession and the fact that the firm's regulatory practices didn't pick up until the end of 2009, when Obama's new regulatory initiatives kicked in, also contributed to the lower gross revenues.
Whatever the reason for the drop, "top four" just doesn't have the same ring as "top two."
This article first appeared in the November 2010 issue of The Washingtonian.