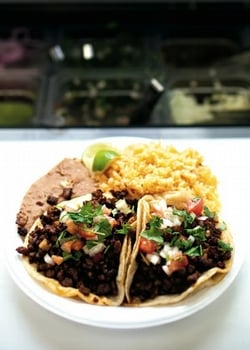 Gas stations might be okay for a bag of M&M's or a caffeine jolt, but the food is usually best left untouched. We've found an exception: Taco Bar, a tiny Mexican-food counter behind the racks of Bud Light inside a Washingtonian (no relation) station. Given its compact size—eight seats inside and 22 more outside—the joint has a long menu and pays surprising attention to detail.
Tortilla chips get fried to order and are a great match for the excellent cilantro-laced guacamole, a mix of smooth and chunky textures. Overstuffed tacos come in six varieties. We like the chicken best, the shredded meat full of smoky and spicy flavor; the ground chorizo is also worthwhile. A fixings bar with freshly chopped red onion, cilantro, and lime lets you customize your meal, and heat seekers can add jalapeños, hot sauce, and four salsas.
The torta—a Mexican sandwich with a fried chicken cutlet, avocado, mayonnaise, and tomato on a floury French roll—is satisfying but unexciting. Other taco fillings, such as tongue, steak, and pork, have been too greasy. Still, the cooking is a welcome upgrade from what most gas stations offer.
Open Monday through Thursday 8 am to 9 pm, Friday 9 am to 10 pm, Saturday and Sunday 9 to 9.
This article appears in the November 2010 issue of The Washingtonian.
Subscribe to Washingtonian
Follow Washingtonian on Twitter
Follow the Best Bites Bloggers on Twitter at twitter.com/bestbitesblog
More>> Best Bites Blog | Food & Dining | Restaurant Finder