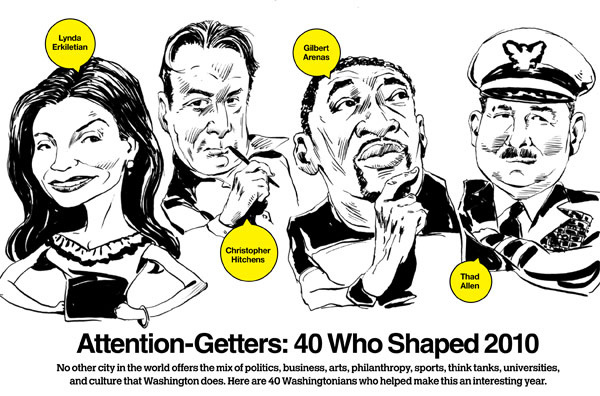 Robert Allbritton. The publisher of Politico hopes to have another big success with TBD.com, his local-news start-up, and he poses a growing threat to the local dominance of the Washington Post.
Thad Allen. The Coast Guard commandant became the government's point man on the BP Deepwater Horizon oil-spill disaster, a post he kept even after retiring from service.
Christiane Amanpour. Can the new host of ABC's Sunday talk show, This Week, get viewers interested in foreign affairs and win over the network's skeptical Washington bureau?
Gilbert Arenas. It's possible no local athlete has ever squandered as much goodwill so quickly. Once the centerpiece of the Wizards, Agent Zero—after a year of gun charges and a faked injury—has been replaced as fan favorite by John Wall.
Derek Brown. One of the country's new generation of innovative bartenders, Brown is helping lead a revolution in cocktail-making from the intimate Columbia Room.
Scott Brown. The surprise replacement for Ted Kennedy as senator from Massachusetts heralded a year of GOP gains, though he also quickly proved himself an astute politician.
David Catania. The DC Council member was the force behind the District's move to legalize gay marriage.
Ron Charles. The Washington Post's fiction critic has started a series of quirky and funny video book reviews unlike anything else in his field.
Nancy-Ann DeParle. The Obama administration's point person on health-care reform helped usher through this year's sweeping legislation. But now comes the hard part: implementing it.
Joe Englert. The nightlife powerhouse who helped remake DC's H Street, Northeast, found himself in the midst of one of the year's strangest news stories: Employees of one of his bars, DC9, were accused of beating a man to death. Charges were later dropped because of insufficient evidence.
Lynda Erkiletian. The modeling-agency head turned reality-TV star was outpsoken about her Real Housewives of D.C. costars—and litigious toward her own critics.
Danielle Evans. The American University professor published one of the year's best short-story collections, Before You Suffocate Your Own Fool Self.
Robert Gates. As the powerful Defense Secretary enters what's likely to be his final year in office, he's trying to reshape the military from top to bottom.
Newt Gingrich. Sixteen years after a GOP wave swept him into the House speaker's chair, the conservative pundit/author/Twitter aficionado looks more powerful than ever.
Vince Gray. The DC Council chairman unseated wunderkind mayor Adrian Fenty in a race that split the District. Now Gray has to unite the city and continue DC's recent progress.
Husain Haqqani. The charismatic Pakistani ambassador is a major player in one of Washington's most important international relationships.
Sidney Harman. The 92-year-old audio magnate decided to take on a new project, buying Newsweek for $1. The big question: Did he overpay?
Christopher Hitchens. The roguish raconteur didn't intend for his memoir, Hitch-22, to be a closing chapter in his career, but his book tour was interrupted by a diagnosis of terminal esophageal cancer. His candid writings since have been among the most poignant cancer tales ever.
Elena Kagan. The onetime Harvard Law dean now, at age 50, has a lifetime Supreme Court appointment and might shape that body for a generation. She's also making friends—attending the opera with Ruth Bader Ginsburg and going shooting with Antonin Scalia.
Ezra Klein. The economic-policy blogger for the Washington Post was the paper's biggest rising star, much to the chagrin of his colleagues who don't get to mix reporting and opinion.
Brooks Laich. The Capitals' rising star scored the only goal of the team's game 7 playoff loss this year—then stopped to change a woman's flat tire on the Roosevelt Bridge on his way home. No wonder he's a fan favorite.
Ted Leonsis. With his purchase of the late Abe Pollin's Verizon Center empire, the tech wizard firmly established himself as a sports magnate—and has a lofty set of goals for the coming years.
The Manzari brothers. Choreographer/actor Maurice Hines cast the tap-dancing brothers—John, 17, and Leo, 15, students at DC's Field School—in Arena Stage's production of Duke Ellington's Sophisticated Ladies at the Lincoln Theatre. Now they're set to be part of the Kennedy Center's celebration of the 50th anniversary of JFK's inauguration.
Tim O'Shaughnessy. The LivingSocial CEO has built Washington's most interesting tech start-up. (For more on him, click here.)
Tony Podesta. In a year when most Democrats didn't have much to celebrate, the superlobbyist ] had a better year than almost anyone else in town, staying busy with clients such as General Dynamics, BP, and financial companies worried about new regulations.
Michelle Rhee. The controversial DC schools chief said she'd put kids first and was a tornado through the city's schools. Whether she was on the right path is still unclear. (Click here for our first interview with her post-resignation.)
Alice Rivlin. The Brookings urban-policy expert, who helped rescue DC from bankruptcy in the 1990s, is helping lead a panel that aims to tackle the spiraling federal budget.
Alec Ross. The leader of the State Department's "21st-century statecraft" initiative is moving the Foreign Service into the social-media age.
David Rubenstein. After conquering the business world, the new head of the Kennedy Center board is becoming one of the region's top philanthropists.
Paul Ryan. If the GOP is to capitalize on its electoral success, it needs to prove it can lead. A good place to start is this thoughtful Wisconsin congressman's balanced-budget proposals.
Richard Sarles. Washingtonians of all stripes rely daily on Metro, but coming off the worst year in its history, the aging transit system is relying on Sarles, its interim general manager, to boost
revenue and rebuild the infrastructure.
Mikhail Semenko. The Cold War may be decades behind us, but the arrest of this Russian spy, who was living in Arlington, shows that espionage drama is a constant in Washington.
Sonal Shah. The former Google executive, now director of the new White House Office of Social Innovation and Civic Participation, is an exciting and talented addition to Washington and the administration.
Mike Shanahan. After successful years in Denver, the new Redskins coach is finding FedEx Field a very tough challenge.
Sinclair Skinner. Adrian Fenty's frat brother was one of the biggest beneficiaries of his fellow Howard University alum's tenure leading DC's government—though the impression that cronyism was rampant under Fenty also helped cost the mayor another term in office.
Molly Smith. The longtime artistic director of Arena Stage finally has a new theater space worthy of her ambition.
Stephen Strasburg. For a brief moment this summer, Strasburg reminded Washington what it was like to be a baseball town. Although he's likely off the field for a year, the Nats hope his magic will return.
Virginia Thomas. The wife of Supreme Court justice Clarence Thomas has become a leader of the Tea Party movement—and she left the year's most interesting voicemail on Anita Hill's phone.
Elizabeth Warren. With Americans still furious over Wall Street bailouts, this controversial consumer activist finds herself with the challenge of reining in the big banks and credit-card companies.
Jeff Zients. The onetime local business executive, now "chief performance officer" for the US government, is on a quest to prove that his job title isn't an oxymoron.
This article appeared in the December 2010 issue of The Washingtonian.
Subscribe to Washingtonian
Follow Washingtonian on Twitter
More>> Capital Comment Blog | News & Politics | Party Photos