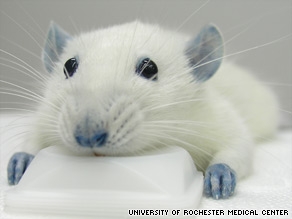 Here's your health tip for the day: Eat more M&Ms. No, really. New research from the University of Rochester Medical Center found that the blue dye used in M&Ms and Gatorade can be used to reduce damage from spinal injuries. You might turn temporarily blue, like their test subjects—white lab mice—did, but we think it'd be worth the risk.
Speaking of rodents, this video will probably make you squirm. Don't say we didn't warn you.
Here's a bit of news that will make your dermatologist happy: Your days of fake-and-bake tans could be over. Researchers at the University of Nottingham recently published a study, which found that people prefer the orange-ish glow of skin colored by carotenoids than the browner look of suntanned skin. How to get it? Eat your fruits and veggies—carrots and tomatoes, to be precise.
Would you wear a frostbite-inducing helmet frozen to 30 degrees below zero to keep your hair from falling out? This cancer patient would—and did.
Subscribe to Washingtonian
Follow Well+Being on Twitter
More >> Health | Top Doctors | Well+Being Blog