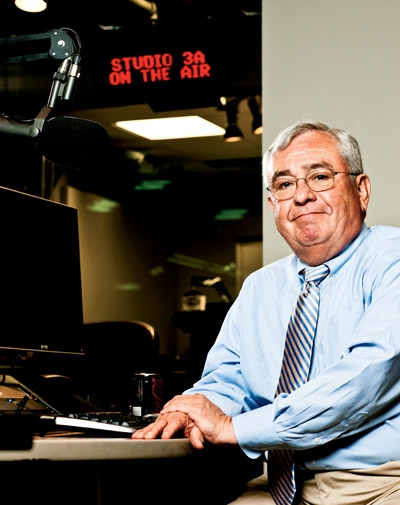 >> See All Washingtonians of the Year
Last year when the first snowflakes started falling on Saturday, December 19, Jim Farley, WTOP's vice president of news and programming, was prepared. He put staff up in hotels and had four-wheel-drive vehicles ready. At first his audience wasn't listening to WTOP; it was watching pretty pictures of the snow falling on TV. Then the power started failing, and Washingtonians turned to battery-powered radios.
"People were scared, cold, sometimes hungry, and they didn't know what was happening," Farley says. "We dropped a quarter million dollars of commercials. We threw out the scripts. We promised to stay on the story until every listener had power back."
Farley started out as a copy boy at New York's WINS radio in 1966. He spent more than a decade in network news before being lured to DC in 1996 to fix an ailing radio station. WTOP wasn't the only thing that needed help. Farley's series "The District in Crisis" began a new direction for the all-news station.
Farley's commitment to his adopted city got translated into community service. A volunteer from the Metropolitan Police Boys and Girls Clubs appealed to the station for help with the club near First and M streets in Northwest DC. The place was a disaster—windows were broken, the roof leaked. WTOP raised $1.5 million to rebuild the club. "You never get that satisfaction in network news," Farley says.
Under his direction, WTOP has won countless awards and is the top Washington station in number of listeners. But what matters most, Farley says, is what he can do for them: "We're the guide to get you through the day-to-day adventures of the human race.
This feature first appeared in the January 2011 issue of The Washingtonian.
Subscribe to Washingtonian
Follow Washingtonian on Twitter
More>> Capital Comment Blog | News & Politics | Party Photos