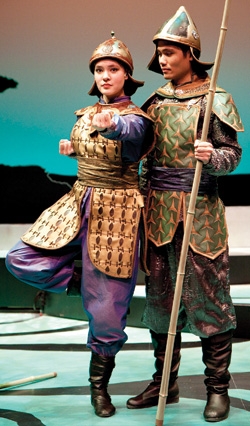 Artworks Fine Art Studio
The seven-to-one student/teacher ratio at this studio means workshops feel personal. Pre-K classes focus on simple shapes and colors, while grade-schoolers can study drawing, pastels, and styles used by masters such as Monet and Rembrandt. For teens and adults, the studio offers everything from basic skills to advanced techniques. Monthly sessions range from $60 to $140. 7740 Old Georgetown Rd.; 301-656-0044.
Bethesda Art Walk
On the second Friday of every month, 11 galleries in downtown Bethesda stay open late. The popular event, from 6 to 9, draws about 500 visitors. Many of the galleries have a shop-like feel—you'll find a lot of paintings, sculpture, photography, and jewelry by local artists. Guided walking tours during the September and October events leave from the Bethesda Metro station at 6:30. Along Norfolk, Woodmont, and Wisconsin aves.; 301-215-6660.
Bethesda Row Cinema
Like its E Street counterpart, the Landmark Bethesda Row Cinema shows Sundance favorites as well as Oscar nominees, documentaries, and foreign films on its eight screens. On ten Sunday mornings from September through May, Cinema Art Bethesda hosts foreign-movie screenings followed by discussions with local film experts. Refreshments—espresso drinks, fair-trade chocolate, vegan cookies—are different from the average multiplex fare, too. 7235 Woodmont Ave.; 301-652-7273.
Imagination Stage
This children's theater company offers family-friendly productions, after-school programs, summer camps, and classes. Programs range from exploring the senses with toddlers to classes on character development for high-schoolers. One alum recently appeared on Broadway. Bunnicula, a musical based on the children's book by Deborah and James Howe, runs September 25 through October 31. 4908 Auburn Ave.; 301-280-1660.
Joy of Motion Dance Center
At the Bethesda branch of this local studio, you can take classes in ballet, hip-hop, jazz, and more. Regular performances feature the company's award-winning youth ensemble as well as local adult troupes. An introductory program offers basic seminars that break down techniques and teach students about dance history and culture; a recent class on Asian dance took a field trip to a Smithsonian exhibit on Asian art. 7315 Wisconsin Ave., Bethesda; 301-986-0016.
Laugh Riot at the Hyatt
Every Saturday night at the Hyatt Regency Bethesda, three professional comics as well as one or two fresh faces culled from area open-mike nights take the stage. Saturday Night Live writer Keith Alberstadt and Chris Coccia, who has opened for Chris Rock and Robin Williams, have made cameos. After the final punch line, amateurs from the audience can compete for "best joke," a $25 cash prize, a T-shirt, and two free tickets to a later show. Attention, parents: The show is always R-rated; kids under age 17 need to come with an adult. 7400 Wisconsin Ave.; 301-657-1234.
Round House Theatre
Since launching in 2005, Round House's Literary Works Project, which adapts novels into live performances, has earned numerous Helen Hayes Award nominations. The series continues this fall with The Talented Mr. Ripley (September 8 through 26) and A Wrinkle in Time (December 1 through 26). Non-literary works get stage time, too: Ameriville, a politically charged performance that uses jazz, gospel, hip-hop, and other storytelling techniques, runs October 20 through November 7. About one Sunday a month, "parents' matinees" let moms and dads enjoy the show while a Round House actor, director, or designer plays games and leads arts activities with kids; free but reservations are required. 4545 East-West Hwy.; 240-644-1100.
Washington School of Photography
Professional photographers can earn their certification here, but courses aren't just for pros: Beginner workshops such as Introduction to Digital Photography, the school's most popular course, start around $325. During a course on starting a wedding-photography business, the school rents a church and hires a "wedding party" to help students build their portfolio. Another class takes students to the C&O Canal to photograph blue herons and other wildlife. 4850 Rugby Ave.; 301-654-1998.
The Writer's Center
Students at the Writer's Center can take classes from such well-known wordsmiths as Maryland poet laureate Stanley Plumly and children's author Mary Quattlebaum. Workshops for both adults and youth cover everything from memoir to short stories to screenplays. Patricia McArdle, whose book Farishta won Amazon's 2010 Breakthrough Novel Award, took a class here. The center also hosts author readings and other literary events. Workshop prices and length vary. 4508 Walsh St.; 301-654-866.
More>> After Hours Blog | Arts & Events | Happy Hour Finder | Calendar of Events