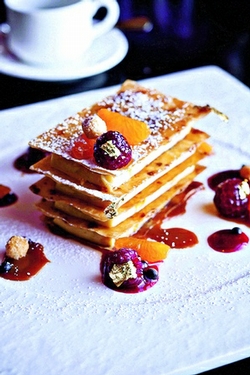 Let me declare my biases up front: You can't have too much Michel Richard, even less-than-perfect Michel Richard. I also don't think there's such a thing as a "minor" novel by Philip Roth.
At a time when promising chefs are elevated prematurely via magazine covers and TV shows, coming upon true greatness when you go out to eat is cause for elation. It happens at least once a meal at Michel, the chef's recently opened restaurant at the Ritz-Carlton in Tysons Corner: A childlike expression of wonder will cross a diner's face, a gasp of delight will cause heads to turn, or you'll catch sight of eyes closing in recollection of some long-buried memory.
At my most recent meal, all three happened. At my table. The chef's onion carbonara had me wondering, "How'd he do that?" (sweet, crunchy strands of onion impersonating a twirl of fettuccine!) even as I reveled in its soulful simplicity. Across the table, my friend let out a moan at his first spoonfuls of chestnut soup, so rich and fine that it made most other soups seem like thin gruel. A tour de force finish called Celebration Cake—three desserts in one (mousse, sponge cake, a tumble of fruit) encased in a crunchy shell of chocolate mixed with hazelnut oil and topped with a sparkling candle—reduced us to wonder-struck kids.
Which doesn't make Michel a great restaurant.
Three months in, the place still feels like a work in progress. Some dishes will send you flipping through the pages of your memory to the best restaurants in America and Europe for comparisons, but in the same meal something might taste as if it were rushed through research and development.
The staff is gracious, but there are slip-ups that ought not occur at a dining room that aims this high: a bread basket delivered too early, cinnamon sprinkled on a latte when it wasn't requested. One night, a waiter, unable to answer a question about a dessert, brought over a colleague, presumably to explain the dish. Instead, the colleague rattled off his list of favorite sweets while the waiter hovered. I'd expect these potholes to be paved over in the coming months; Richard didn't get to be a 46-year veteran of the industry by happenstance.
Another night, a bottle of Condrieu turned out to have oxidized, something the sommelier would have known had he taken a tiny sip—as his counterpart, Kathy Morgan, at Richard's Citronelle restaurant in Georgetown, would have done, pouring a few drops into her tastevin.
That's the shallow silver cup some sommeliers wear on a chain around their necks, a utensil resonant of old-school fine dining—and the sort of appurtenance Michel was meant to eschew. The new place has been pitched between the formal elegance of Richard's Georgetown flagship and the lively accessibility of his downtown DC bistro, Central, between a grand night out and a casual yet upscale meal.
The calibration could use some tweaking. Prices are high—the average appetizer costs $15, and 6 of the 13 entrées are $30 or higher—and if some of the stiffness of Citronelle is missing, so is some of the pampering, the sense that more than being served a meal, you're being taken care of.
The dining room is a beaut—a plum-hued space that obliterates memories of the stiff setting of erstwhile tenant Maestro, aided by soft, flattering light. But Richard, who is fond of making the rounds—I'll never forget his picking up a diner's spoon one night at Citronelle years ago and, demonstrating that food isn't an enduring art, smashing a perfect napoleon to bits—was heard to complain one night about customers coming in jackets and not taking them off, not getting loose.
He's right, but it's his own doing. The room lacks the easy charm and crackle of Central, which might be the best marriage of setting and food in the area—playful, witty, sophisticated.
Are these deal killers? Hardly.
Levi Mezick, formerly of the Jockey Club, has been tapped to run the open kitchen, and the bright lights overhead spotlight him as if he's onstage. But the star is the food, and it's unmistakably Richard's, with such clean lines and such clear and winking reference points that it often looks more like pop art impersonating food than it does something to eat.
Salmon tartare, in most restaurants a patty-like mound, is turned into a flat layer cake of a terrine, thin bands of crème fraîche alternating with bands of cured salmon. It's a stunning confection—and then you pick up on the trick being played: What looks to be the height of haute cuisine is in fact bagels and lox.
Crab spring roll is a subtler deception. It's essentially a crabcake shoehorned into a tightly rolled wonton wrapper and dressed up with enough ginger sauce to make the flavors of the crabmeat pop.
In many restaurants, carpaccio seems to be just a clever way for chefs to get away with serving minuscule portions of unremarkable food while still flying the flag of relevance. But dig into the eel carpaccio here. How something so see-through sheer can be so flavorful is remarkable.
At Citronelle, Richard is known for his trompe l'oeil effects, for dishes that look one way and taste another—cappuccino that's actually mushroom soup, a "fried egg" that's just a puddle of yogurt capped by an apricot mousse. Here, the goal often is invisibility. You're not meant to swoon over or even notice the techniques or enhancements being used, just to benefit from their canny deployment.
The rib eye is the best example. The kitchen dispenses with the bone, fusing the two halves of the chop together with a meat protein—the result resembles a giant filet mignon—and bathing it in a Syrah reduction perked up with parsley, shallot, white peppercorn, and a sweetening hit of beet juice. Better still are the cleverly engineered tater tots, which resemble a child's blocks—perfect little squares—and actually taste of potato.
Occasionally, the engineering is too clever: "Mustard rabbit," its lead ingredient converted into an array of hot-dog-like tubes, tastes like the sort of overproduced dish that Richard's mad-scientist experiments are designed to avoid—flavor sacrificed on the altar of cleverness. A high-end riff on the Vietnamese soup pho—bringing together sablefish, soba noodles, a poached egg, and a host of fresh veggies—never achieves culinary kismet. Tasty though each component is, the dish yearns for a unifying force.
A reimagining of the bistro classic blanquette de veau emphasizes the meat at the expense of its creamy, wine-fortified gravy; the slow-cooked hunks of veal can be cut with a chopstick, but we've come to expect more of a Richard dish than simply that its meat be tender. A dish of scallops in a shallot jus has the opposite problem: Too much sauce gets in the way of the exquisitely sweet diver scallops.
Missing from the menu are the sorts of dishes Central trades on, the fried chicken Richard made even crispier than KFC, the burger upscaled without losing its humble soul. Michel could use a few identity-defining dishes such as these, which would also go a long way toward establishing a looser, more bistro-like tone.
Amid the high-degree-of-difficulty dishes and the almost-but-not-quite dishes, you can nearly lose sight of a simple plate of house-made head cheese, but you shouldn't. The thin slices are tossed w
ith bits of frisée, the whole thing doused with a bright, sweet shallot vinaigrette that's long been a Richard staple. It's not complicated and it doesn't take your breath away, but it's eminently satisfying.
It's at dessert that all the many pieces lock together. Richard is a former pastry chef, and he has always taken sweets more seriously than do most chefs, who tend to regard dessert as a pleasant coda and live in fear that their prior, complicated work might be upstaged by mere cake. Richard treats dessert as a triumphant finale. The Celebration Cake is the most obvious example, but all of the ten sweets on the menu are exuberant validations of his vision.
A seasonal dessert, a snowman meringue, looks picture-perfect (Richard made Martha Stewart look klutzy by comparison when he made them on her show) but is also revelatory in combining the flavors of pumpkin and caramel. The napoleon isn't just crunchier but also creamier than usual, the latter thanks to the use of crème brûlée instead of pastry cream. A comparatively straightforward marjolaine cake is pastry at its best, and the pistachio sauce is as clear and rich as the finest reduction.
All embody the virtues that Michel Richard himself always has—an effortless drama, a playful seriousness—and that Michel, with work, can, too.
This article appears in the February 2011 issue of The Washingtonian.