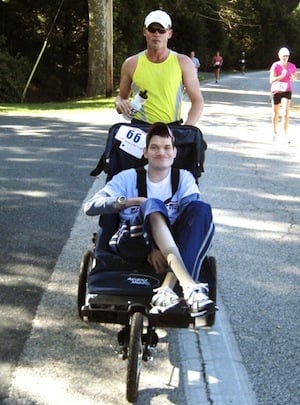 "I've been swimming since I was five years old," says Benjamin Green, a resident of DC's Logan Circle who's now 28. He also played soccer, basketball, and baseball growing up. Considering his athletic prowess, it wasn't a huge transition when Green started competing in triathlons a few years ago.
It was just a race here and there at first, but two years ago Green got serious about the sport. He quit drinking alcohol ("I wanted to take better care of my body"), bought a time-trial bike, and got a coach. He's completed 18 triathlons, including sprint and Olympic distances and two half Ironman races. "It's part of who I am," he says.
But just part. Green's twin brother, Patrick, who has cerebral palsy, is the other part. He was born with his umbilical cord wrapped around his neck, which cut off the oxygen supply to his brain and damaged it. Patrick can't speak and can walk only short distances. He lives with his parents in Fredericksburg, but Green makes the hourlong trek to see him regularly.
Green had seen a clip on ESPN about a father-and-son team who completed the Hawaii Ironman together. The pair, called Team Hoyt, consists of father Dick and son Rick, who was diagnosed with cerebral palsy soon after birth—just like Patrick. Dick pushes Rick in a special wheelchair while they race, and since 1977 the two have logged thousands of miles together.
"I told myself, 'Patrick and I need to do that,' " says Green.
Unfortunately, money was a problem. Race-worthy wheelchairs cost thousands of dollars, Green learned. Besides, he wanted to make sure this was something Patrick would enjoy before he invested all that money. It took some time, but Green was able to find a chair to borrow, thanks to the nonprofit Athletes Serving Athletes. The chair was a little small for Patrick's six-foot-one frame, but it would work.
Green drove to Fredericksburg to show the chair to Patrick. He floated the idea by his parents, but they were worried about Patrick's safety: What if the chair flipped? What if he got his fingers caught in the wheels?
Patrick, on the other hand, was ecstatic. "As soon as I put the wheels on, he sat in the chair in the living room," says Green. "I didn't say, 'Patrick, this is for you.' He just knew and was smiling from ear to ear."
Green took the chair outside for a test run around the neighborhood. It was steady but heavy—Green estimates it weighs 150 to 170 pounds with Patrick in it—so he knew he'd have some training to do. The next step was picking a race.
Green wanted to start with a half marathon so they could get used to racing together. He wasn't sure if Patrick would be happy to sit for hours on end, which is what it would take to do a marathon or longer distances. After researching local races, Green homed in on the Chestertown Half Marathon on the Eastern Shore. It's a relatively flat course and is a wheelchair-friendly race.
Green trained with Patrick every week for months leading up to the event. On September 18, 2010—race day—the pair had 12 family members and friends come out to cheer them on.
"Patrick was so excited," says Green. "I think he laughed for the first five or six miles. Then he sort of kicked back, crossed his right leg over his left, and was just sitting there like, 'Where's my cocktail?' "
Green talked to his brother through the whole race. Out of the five other runner/wheelchair teams that day, Patrick and Green came in second with a time of 2 hours and 13 minutes.
This year, Green has his sights set on the Cherry Blossom Ten Mile Run, April 3 in DC, and possibly the Nation's Triathlon, also in DC on September 11. His goal is to complete a mix of running races and triathlons with Patrick in the hopes that someday they might do an Ironman.
Whatever his next race is, Patrick will complete it in his own custom chair. After the Chestertown race, Green put up a Web site and raised $3,200 for a chair. Patrick has been measured and should have his new chair soon.
Green is also working on getting a nonprofit off the ground that will be aimed at helping disabled people like Patrick be active.
"My ultimate goal is to show the world that just because somebody has a disability doesn't mean they have to be confined to the house 24/7," says Green. "Patrick can't talk, but he understands and he enjoys life. We love doing things together."
Have an inspiring health or fitness story to share? We want to hear it. E-mail wellbeing@washingtonian.com.
Previous Heath Heroes posts:
Vincent Farquharson
Angelo Esposito
Beth Klein
Subscribe to Washingtonian
Follow Well+Being on Twitter

More >> Health | Top Doctors | Well+Being Blog