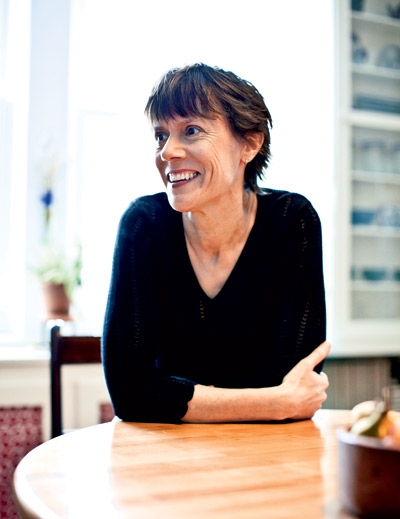 Leap and the net will appear.
Susi Wyss's favorite Zen saying explains why she didn't blink when she quit her job in 2006 to write a book.
"Am I always going to wonder if I could have done it if I had only given myself some time off?" Wyss, now 45, asked herself.
The Civilized World, her collection of stories, is being published on March 29.
A DC native born to Swiss parents—her father worked for the World Bank—Wyss lives in Silver Spring. She grew up mostly in Potomac but lived from age seven to ten in Ivory Coast. At one point, her family visited a remote village in that country to hand out bread. When the bread was exhausted, a near riot broke out as children banged on the family's Peugeot begging for more.
"It made me open my eyes that some people don't have the same benefits I do," Wyss says.
The Holton-Arms School graduate joined the Peace Corps in 1990 and served in the Central African Republic. Later she worked for Jhpiego, a Johns Hopkins–affiliated international-health nonprofit. She has graduate degrees in international health from Boston University and in writing from Hopkins.
While working in international health, Wyss questioned her impact following a visit in 2000 to the Central African Republic. The teenage daughter of a woman she had helped a decade earlier was now facing the same poverty as the mother.
Wyss decided on a new approach: Instead of tackling what ailed Africa, she'd highlight the commonality between that continent and the rest of the world through the eyes of five fictional female characters. By writing The Civilized World—a "novel in stories"—she'd shine a light not on disease and poverty but on the universal themes of family, dreams, fear, vulnerability, and tradition.
"You become immune to it," Wyss says of Africa's challenges. She wanted to counter us-versus-them attitudes: "By putting a more human face on Africa and showing the day-to-day situations, it would resonate with people because it's familiar."
Wyss hopes her book will get people thinking in a new way. Meanwhile, she's back at work for Jhpiego and writing another novel.
Clearly, the net appeared.
"I was definitely going out on a limb," she says. "I didn't want to have any regrets."
This article first appeared in the March 2011 issue of The Washingtonian.
Subscribe to Washingtonian
Follow Washingtonian on Twitter
More>> Capital Comment Blog | News & Politics | Party Photo